Church organist nabbed for playing glory hole in excelsis
One gift from God (a) man did not want to see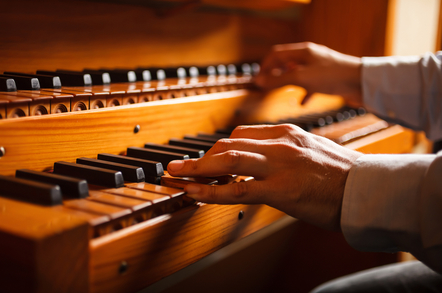 A church organist is due before the beak next month after he allegedly thrust his pink pipe through a glory hole in excelsis and "waited" for someone to make sweet music.
74-year-old Jerry Michael Childress is alleged to have entered the bog in a Brooksville, Florida-based park and, er, pulled out all the stops, a report by the local fuzz indicated.
Police claimed the recipient of the man's affections, a road sweeper operator, had stopped off for a tinkle when the ivory tickler "shoved his penis through the divider wall and waited".
"The victim became agitated, exited his stall and confronted the defendant… who promptly exited the restroom and fled the scene on foot," the report added. The road cleaner then called 911, say cops.
Officers searched for Childress but it was the road sweeper who later spotted the man exiting woods in the park and pursued him in his cleaning vehicle to the Faith Evangelical Presbyterian Church (FEPC), where he's been organist for the past decade.
Childress, who police say subsequently admitted the entire incident, was arrested, charged with indecent exposure and moved to Hernando County Jail. His day in court is set for 10 August.
According to reports, Childress stated on his LinkedIn account - which now seems to have closed - that he was the principal organist at FEPC "which is a paid position, but I do it because of my love of playing organ music and giving my gift back to God". ®