Hans off! Ericsson unplugs CEO after gräsliga results
Vestberg pays price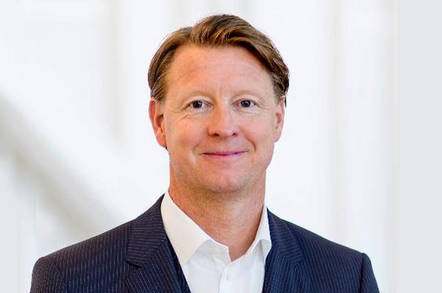 Ericsson CEO Hans Vestberg has been unceremoniously dumped after another set of disappointing results.
The Swedish telecoms' board unanimously decided to ditch their chief exec after he failed to meet analyst expectations, despite having slashed jobs and done his best to cut costs. He has been at the company for 28 years and has been CEO since 2010. He will be replaced immediately by CFO Jan Frykhammar, serving as interim CEO.
Ericsson faces a slowdown in its key market of mobile phone towers and equipment, as well as competition from the cheaper Huawei. Even against rival Nokia, it has been losing ground, prompting unusual public criticism back in February by the company's two main shareholders – who between them own just under two-fifths of the company's stock.
The company's latest results showed a 24 per cent drop in profit for its second quarter. In response, Vestberg announced another round of job cuts and promised to reduce costs and make greater savings.
But it wasn't enough to appease investors, especially when compared to Huawei's soaring results: a 40 per cent increase in revenue in the first half of 2016.
Ericsson chairman Leif Johansson tried to put a brave face on the situation, saying that the board has been considering replacing Vestberg for some time. He acknowledged, however, that the board decision took place on a Sunday night. The fact that Vestberg left his position immediately rather than stay to hand over to his successor suggests things were not entirely placid.
In a statement, Vestberg said that the company was entering its "next phase, driven by 5G, IoT and Cloud," and that it was "time for a new CEO to step in and continue the work to ensure Ericsson's industry leadership."
Ericsson shares were up slightly on the news, but are still down nearly 50 per cent on a year ago. ®
Sponsored: Minds Mastering Machines - Call for papers now open