Teradata and Nuix are dancing in the dark
Where there is dark data let there be...umm...light data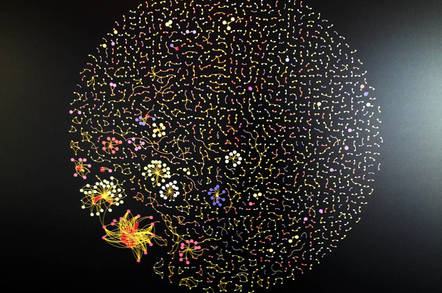 Teradata has teamed up with Nuix to enable customers to process "dark data" using its Aster Analytics technology.
It says Aster is a more capable analytics engine than Nuix, while Nuix is a more capable data extraction and indexing engine than Aster. Combine the two and, for an eDiscover or compliance infraction detective, what look like inpenetratable data slag heaps can be made to yield information they need. Of course, the two are nothing more than tools for gold miners; you still have to know where to look for the gold and hope that it's there.
Aster Analytics applies text and pathing analytics and machine learning to extract information from data repositories.
Nuix is an Australian company founded in 2000 to mine unstructured data for legal and regulatory purposes. Its Nuix engine software extracts searchable text and metadata from a huge range of source data types, ranging from deleted files through to PDFs, massive email databases and data preservation entities such as EMC's Centera and NetApp's SnapLock.
The Teradata pitch is that this is dark data, with effectively undiscoverable and unknowable contents due to the sprawl of data types, formats and containers. Nuix's software shines a light on it, bringing it into a single searchable pool - as it did with the Panama Papers - from which Aster can target and extract the useful stuff and bring it into the daylight.
The partnership is a two-way street, as we're told Nuix's customers in investigation, litigation, cybersecurity, intelligence, and information governance professionals can use Aster Analytics capabilities to help better analyse Nuix-generated data pools. ®