Blighty's Coastguard goes into battle against waterborne Pokemon
As Reg news team snare art desk menacing Charizard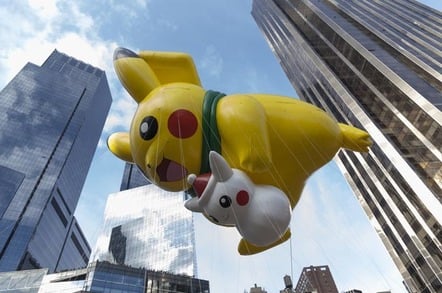 Suspicions are rising that Pokemon Go is some sort of massive Darwinian experiment, after HM Coastguard was forced to warn the UK populace about the dangers of attempting to capture waterborne varieties of the non-existence pocket monsters.
The coastguard said that early this morning, it was "was called to investigate reports of a group of twenty youths taking a rowing boat without permission, to chase a Pokémon across New Brighton marine lake. "
By the time authorities arrived, the youths, and the virtual beast, had both disappeared, with the abandoned rowing boat adrift in the middle of the marina. Presumably both Pokemon and youths escaped safely.
Senior Coastal Operations Officer, Danny Jamson said: "We know that many people are enjoying Pokémon GO across the UK and we wouldn't want to spoil that fun. However, we would ask people to use a little common sense and not to take risks while looking for Pokémon. The incident this morning shows that risk taking can put not only you in danger but also the rescue services who have to come to your aid."
The incident raises a number of troubling questions. Just how far are youngsters prepared to go to capture a virtual reality monster, for instance? Is there no geo-fencing in place to prevent Pokemon escaping across large bodies of water and taking gullible youngsters to a watery grave? Don't the Pokemon know they're subject to a £1,000 fine for unauthorised use of the lake? And what on Earth is going to happen when people start chasing the flying varieties of the little critters?
Asked what the hell is going on The Register's official office youngster and spokesperson for generation rent said: "Pokemon Go is all we have when we can't afford a home of our own."
In the meantime, the senior cadre of the Reg news team is doing what it can to target this menace. Just 10 minutes ago we caught a Charizard that was hiding behind the Reg art desk. ®
Sponsored: Beyond the Data Frontier