EMC: Sales flat but wallets fat. Ready to vote on the merger?
Shareholders... it's Dell or, er, Dell, right?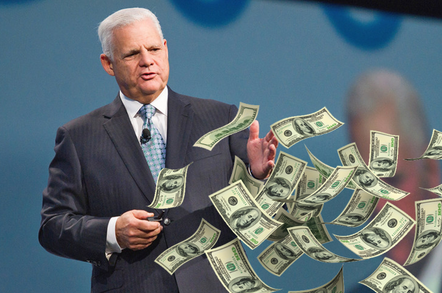 EMC-Dell deal EMC saw totally flat revenues in its second quarter but profits rose 19 per cent. It could have been better as late orders couldn't be fulfilled.
Revenues were a straight $6bn, unchanged from a year ago but up 9.6 per cent sequentially. They were $5.9bn two years ago so EMC is arguably standing still revenue-wise.
Net income was $581m, which compares to $487m a year ago, and $268m in the first 2016 quarter, a pleasing 117 per cent jump. They were $589m two years ago, again indicating ENC is managing to maintain its position but not grow its business overall.
VMware's second-quarter revenue was $1.68bn, up 11 per cent year over year. Pivotal second-quarter revenue was up 49 per cent year over year. Pivotal's annual recurring revenue for its cloud and big data subscription software grew by triple digits year over year.
David Goulden, EMC Information Infrastructure CEO, said: "Our expanded all-flash storage portfolio, converged and hyper-converged portfolio, as well as our enterprise hybrid cloud and Virtustream cloud solutions performed very well."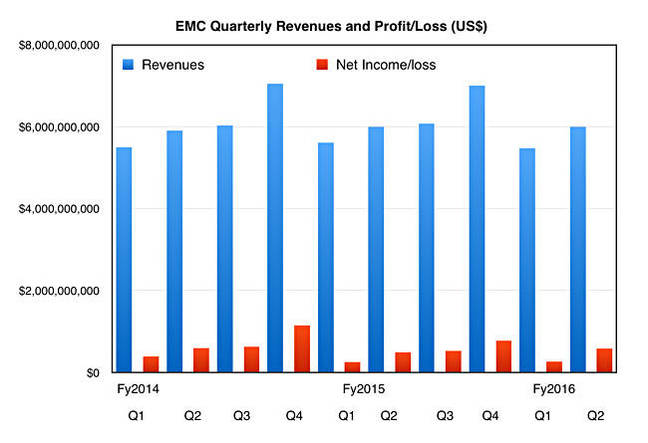 CFO Denis Cashman said: "We once again experienced a higher-than-expected build in unshipped storage product orders due to the timing of bookings within the quarter. Adjusting for an approximately $130m increase in unshipped orders compared to the year ago quarter, EMC's consolidated non-GAAP revenue in the second quarter grew one per cent year over year."
The EMC II Q2 business highlights were:
Demand for all-flash array portfolio grew at 100 per cent year over year with an annual run rate of well over $2bn in the second quarter,
Demand for Virtustream Enterprise Cloud services grew triple digits year over year,
Demand for the Converged Infrastructure portfolio grew 40 per cent year over year,
EMC said "Customer adoption of hyper-converged products was very strong in the second quarter" and demand for its Enterprise Hybrid Cloud offering grew 178 per cent year-on-year in the first-half of 2016.
Krista Macomber, a senior analyst at TBR, sad: "After a full year of bottom-line declines during 2015, EMC notched a second consecutive quarter of year-to-year net income improvements during 2Q16."
This was due to "cost restructuring initiatives but also by heightened monetisation of investment in strategic solutions areas." That's the all-flash and converged/hyper-converged product and cloud service areas.
TBR expects global hyperconverged revenues to grow at a 50 per cent CAGR from 2015 to 2020.
Revenues and profits were hindered by "evaporating demand for high-end, stand-alone spinning disk arrays, shrinking 4 per cent year-to-year during 2Q16." This decline was slowed by product refreshes.
The EMC shareholder vote on the $67bn Dell acquisition of EMC via its Denali parent company takes place today. Goulden was upbeat about this, as you would expect: "Turning toward our coming together with Dell, I'm incredibly excited about the impact we will make for customers as we continue to invest and innovate in support of their most strategic IT-led initiatives."
Macomber says TBR sees opportunity for EMC to tap Dell's Boomi integration platform and know-how in efficient manufacturing of standards-based systems to improve its efficiency.
She writes: "Ultimately, the combined company's keys to success are overcoming uncertainty and executive changeover in the channel, and keeping a sharp eye to careful management of alliances with third-party technology and service provider partnerships – beyond the challenges of integrating disparate technologies and direct selling cultures."
There is no earnings call about the results due to the closeness of the Dell merger vote. Shareholders will vote on the back of a profits uplift and with the knowledge there is no practical Plan B: it's Dell or nothing. EMC's board of directors unanimously approved the dealsome time ago. ®
Sponsored: Detecting cyber attacks as a small to medium business