Big Blue's boxes: No IBM storage numbers, but it's a drop
Quarterly storage hardware revs continue slow slide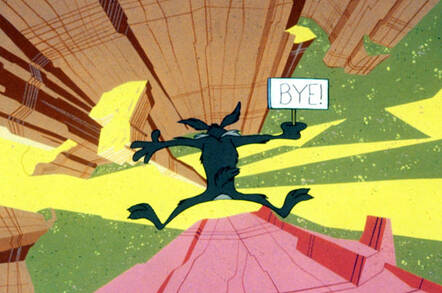 +Comment The storage hardware portion of IBM's quarterly revenues continued its long-term decline, with a 13 per cent annual drop.
It's a nice welcome for incoming storage boss Ed Walsh with the storage hardware decline glaringly obvious.
We don't know the storage software numbers within IBM's systems segment, and nor do we know storage software revenues in the SoftLayer cloud operation, which now has the CleverSafe object storage software product in its mitts.
+Comment
IBM provided a percentage annual fall but not an absolute dollar number in its results release. Our guess from a calculating against the year-ago second quarter is that the storage revs came in at around $548.1m.
Then we updated our history chart of IBM's quarterly storage hardware revenues and this is the result: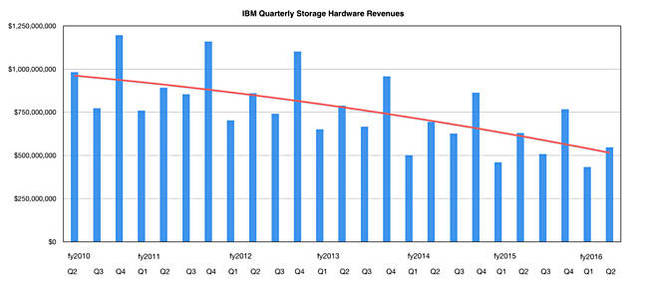 Click on the chart for a larger version.
It's not pretty. Within these numbers we could imagine that all-flash FlashSystem and all-flash DS8000 are doing okay, perhaps even splendidly. We could equally well imagine that hybrid and disk-based arrays are suffering plunging declines in their revenues.
What's a Big Blue storage boss to do?
Pure Storage has just replaced Storwize arrays at the UK's Waitrose retail business, with AIX-running POWER systems the accessing servers. It's not as if Storwize is that old in technology terms but it's no match for a flash array, and IBM's own FlashSystem couldn't persuade Waitrose's IT buyers to prefer Big Blue's in-house flash array.
What are the instructions Walsh has been given? Manage the decline? Arrest it? Get us into storage software? Our estimate is that he has to manage the decline while developing the systems with prospects, like FlashSystem, decide how to get into the hyper-converged area in a serious way, and extend the flash product portfolio.
That means pouring engineering effort into FlashSystem or buying in technology. El Reg is betting on an acquisition. Time is too short for lengthy development. Why bring in Walsh if you are not prepared to give him the product weapons he needs to succeed in the storage battlefield? Only bozos would do that. ®