Ivory tower drops water bombs on dumpster fire
Tech titans trash-talk Trump – what do they hope to achieve?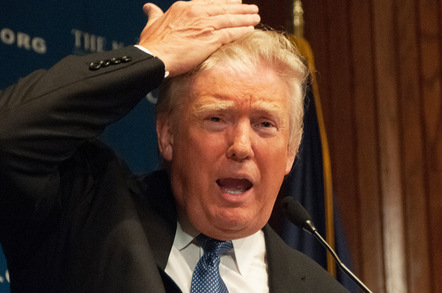 A veritable Who's Who of the tech industry have signed an open letter aggressively criticizing Donald Trump and his proposed presidential policies.
"We are inventors, entrepreneurs, engineers, investors, researchers, and business leaders working in the technology sector," the letter begins. "We are proud that American innovation is the envy of the world, a source of widely-shared prosperity, and a hallmark of our global leadership."
It then takes a nasty turn. "We believe in an inclusive country that fosters opportunity, creativity and a level playing field. Donald Trump does not. He campaigns on anger, bigotry, fear of new ideas and new people, and a fundamental belief that America is weak and in decline."
Among the 145 signatories – all signing "in a personal capacity" – are "Father of the internet" Vint Cerf, Woz, Wikipedia's Jimmy Wales, eBay founder Pierre Omidyar, Reddit cofounder Alexis Ohanian, several former and current Twitter execs and top executives from Slack, Yelp, Flickr, Qualcomm, Box, YouTube – even recent lawsuit recipient Shervin Pishevar of Hyperloop One, among many others.
Their main message: "We have listened to Donald Trump over the past year and we have concluded: Trump would be a disaster for innovation."
It then runs through a roll-call of Trump's worst ideas: the building of a wall on the Mexican border; a ban on Muslims entering the country; deportations; profiling; shutting down parts of the internet, and so on.
"Forty per cent of Fortune 500 companies were founded by immigrants or their children," the letter notes. "Donald Trump, meanwhile, traffics in ethnic and racial stereotypes, repeatedly insults women, and is openly hostile to immigration."
He demonstrates "both poor judgment and ignorance about how technology works" and his "penchant to censor extends to revoking press credentials and threatening to punish media platforms that criticize him."
Trump also has "reckless disregard" for the country's institutions and "risks distorting markets, reducing exports, and slowing job creation."
It concludes that the undersigned "stand against Donald Trump's divisive candidacy and want a candidate who embraces the ideals that built America's technology industry: freedom of expression, openness to newcomers, equality of opportunity, public investments in research and infrastructure, and respect for the rule of law."
Upshot
While the message is extremely clear – and surprisingly undiplomatic given the people that have signed up – what is less clear is what all the tech leaders hope to achieve by publicly slamming Trump.
Pollsters will no doubt be able to point to some segment of society that is likely to be persuaded by the letter not to vote for Trump, but the reality is that it serves to further highlight the apparent divide in American society between those who can't quite believe someone like Donald Trump is going to become a major party's presidential candidate, and those who think he represents a fresh and honest approach to the US' systemic problems.
On Thursday, Supreme Court Justice Ruth Bader Ginsburg said she regretted making "ill-advised" remarks about Trump earlier this week, adding "judges should avoid commenting on a candidate for public office. In the future I will be more circumspect." She had said Trump was a "faker" and was unsuitable to be president. He responded, as ever, by insulting her in a tweet.
It seems unlikely that all the signatories will feel similarly when the inevitable backlash against their letter arrives. Or that Trump will fire off another 145 unpleasant tweets to them individually. But then again, you never know. ®