Veritas backup appliance sees red
Increased 5200 capacity and speed with lower power draw and a red line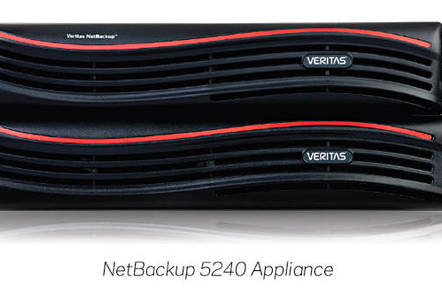 Veritas has upgraded its 5200 deduplicating backup appliance line from the 5230 to the 5240, increasing both capacity and also speed through having faster processors.
It has also lowered the energy consumption, increased the number of networking ports, and altered the wavy line scrolling across the bezel from yellow to red. The expansion shelf has a smaller rack height as well.
The 5240 comes as a base 2U appliance with up to four 2U expansion shelves. The base appliance has 2 x Xeon E5-2630 v3 2.4GHz CPUs and 12 SAS disk drives – one being a hot spare. An embedded RAID controller configures four of these disks into two RAID 1 mirrored volumes. They contain the NetBackup appliance OS, application and log files.
Six other drives hold user data in a RAID 6 array. These drives can have 1, 3 or 6TB raw capacities.
The 5230's maximum usable capacity was 148TB, whereas the 5240's is 196TB, with the four expansion shelves. The maximum 5240 system capacity is 201TB by the way.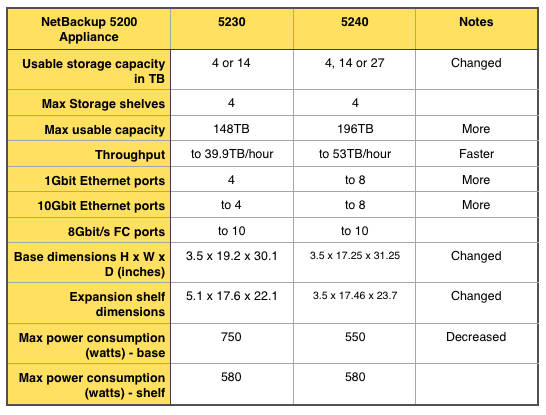 Veritas NetBackup 5230 and 5240 comparison table
Compared to the 5230, the 5240 offers:
36 per cent greater capacity and 100 per cent greater density per rack unit,
30 per cent increased backup performance for shorter RPO and RTO,
ENERGY STAR compliance with lower wattage.
SAS-3 cables connect the NetBackup 5240 Appliance to the storage shelves and SAS-3 cables also connect the storage shelves to each other.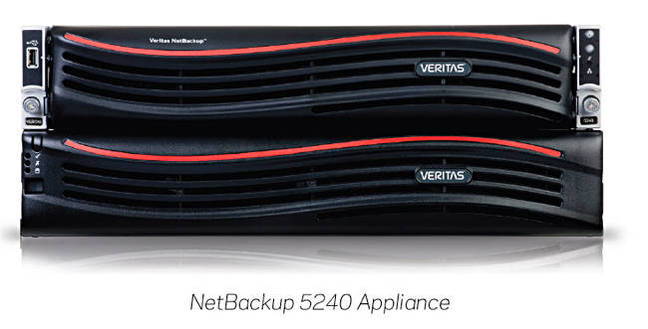 As before, the new 5200 model can be a master server, media server or both. Veritas' data visibility software, its Information Map, is available in a free trial with the 5240.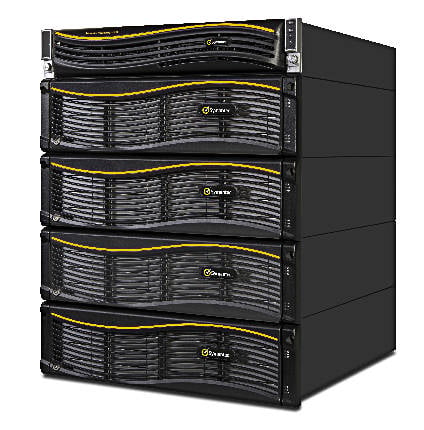 Previous 5230 with yellow line
Get a 5240 product description here and datasheet here (pdf). There is a Veritas channel programme to encourage 5200 customers to upgrade to the 5240. We have no availability and pricing information so contact your Veritas channel partner with a raised eyebrow. ®