Hyperloop One lynched in hangman lawsuit
Co-founder warns project is 'being strangled' – literally – by sugardaddy chairman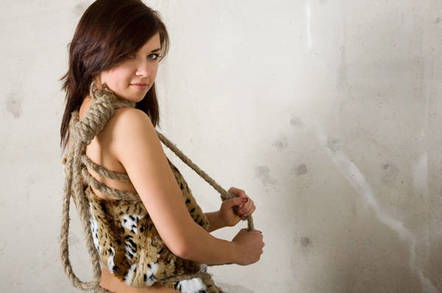 Tensions at the tube-traveling startup Hyperloop One have burst into the open with a lawsuit alleging physical threats, financial mismanagement and a sugardaddy chairman leaving a hangman's noose on a cofounder's chair.
The lawsuit [PDF] was brought before a Los Angeles court yesterday by Hyperloop cofounder Brogan BamBrogan, who, amazingly, changed his name from Kevin Brogan when he married his wife Bambi Liu (she's now named Bambi BamBrogan). BamBrogan claims his company's technological promises are "being strangled by the mismanagement and greed of the venture capitalists who control the company."
It doesn't end there. BamBrogan goes on to make a series of extraordinary claims, including the allegation that his co-founder – and Hyperloop's executive chairman – Shervin Pishevar started paying the upstart's PR advisor more than any other employee, tripling her salary to $40,000 a month shortly after he started sleeping with her. The arrangement only ended when their proposed engagement fell apart and she was fired, the lawsuit claims.
Also stark is the claim that Shervin's brother, Afshin – the company's general counsel – threatened BamBam by leaving a hangman's noose on his chair. The lawsuit includes pictures of security footage showing Afshin with the noose, and BroganBamBrogan subsequently holding it up.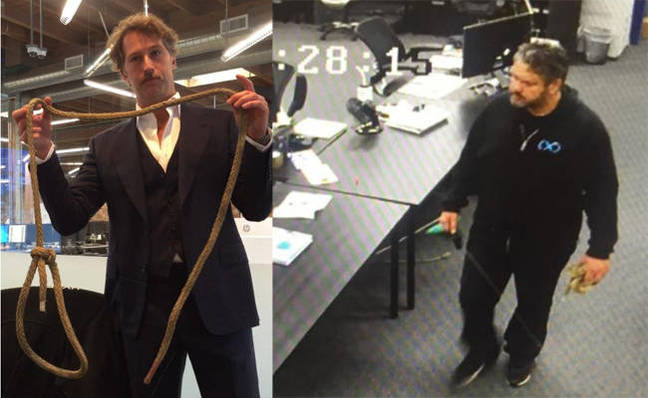 BamBrogan (left) holds up the noose that Afshin Pishevar (right) allegedly left on his chair to intimidate him
Instead of helping to turn the Hyperloop dream into a serious, workable technological endeavor, the business morphed into a plaything for some of its senior figures, it is claimed. BamBrogan and three of his colleagues – veep Knut Sauer, David Pendergast, assistant general counsel, and Wlliam Mulholland, veep of finance – claimed Shervin and Hyperloop One board director Joseph Lonsdale, frequently disrupted the work of senior engineers, we're told.
It was also alleged the three forced their engineers to give company tours to people they wanted to impress, including celebrities and a Los Angeles nightclub doorman. The company's headquarters was turned into a private party venue so leaders could entertain guests, the allegations continued.
Cronies and cash
Nepotism was also rife, it was claimed. Instead of hiring people with the adequate experience, leaders brought in their relatives, we're told. Shervin hired his younger brother as the company's general counsel, while Lonsdale recruited his younger brother's "two-person outfit" as the company's exclusive investment bank.
Shervin allegedly pressured potential investors to invest in his own fund, Sherpa Capital, before they could gain access to direct investment into Hyperloop One. The lawsuit claims "Shervin granted himself 90 per cent of Hyperloop One's common stock" and gave his co-founder, BamBrogan, six per cent. The remaining four per cent was given to the initial board members.
When the employees wrote a formal complaint to board members on their concerns about the company, senior figures threatened them with lawsuits that "would bleed the employees dry," it is alleged. When BamBrogan flagged up concerns with a Russian investor, who later brought them forward to Shervin over dinner, a clear message was sent to BamBrogan, it was claimed.
Hours after the dinner, Shervin's brother Ashfin was seen on security cameras carrying a noose made out of rope. The noose was later found on BamBrogan's desk.
Hyperloop One had attracted external investment – $80m in a series-B funding round – and had BamBrogan as its chief technology officer.
BamBrogan is an ex-Space X employee who worked with Elon Musk in developing his propulsion systems on the Dragon spacecraft – a capsule that is used to deliver cargo to astronauts onboard the International Space Station.
Bambrogan resigned from Hyperloop One and is seeking unspecified monetary damages, reinstatement and a public apology. ®
Additional reporting by Kieren McCarthy.