IBM scraps loyal staffer gifts in favour of... a congratulatory social page
No Montblanc pens for you lot!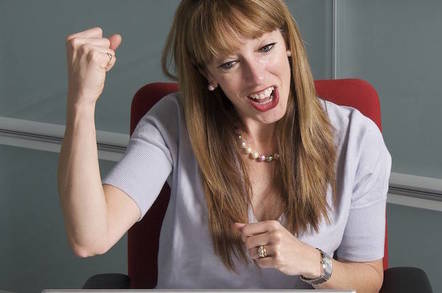 Petty managerial powers-that-be at IBM have thrust forward an exceptionally mean redesign of the company's loyal employee rewards scheme - gifts are to be scrapped for a "social congratulatory page".
Big Blue insiders told us the firm will now honour three, five, 10 and 50 years service in a new and special way, though the chances of anyone working for five decades at IBM seems fanciful in the current environment. Details of the updated reward scheme – introduced on 1 July – were recently posted to the company intranet:
HR at IBM has been working to deliver more personalised and consumer grade IBMer experiences from cultivating a culture of feedback to cognitive learning that's more mobile - all in support of our transformation.

Now we're re-imagining how to celebrate years of services across the world - incorporating feedback from IBM managers and employees who have asked a new approach to honour IBMer service anniversaries.
A less scrupulous publication might suggest IBM is looking to cut costs following 16 quarters of consecutive sales decline. Here are the changes in full gory details, as written by the company:
To celebrate service milestones, we've created a social congratulatory page. And since it's about personalised and social experiences, you, other colleagues, friends and family will play a big role in sharing congratulations.
IBMers celebrating 25th anniversaries, known as the Quarter Century Club, as well as 40th, 45th and 50th anniversaries and retirement will be honoured with a celebratory event (dinner, luncheon or smaller celebration).
This new social program replaces all other recognition elements (e.g. BluePoints, cash awards, gifts, etc) so that we are now delivering the same experience to all IBMers around the world.
IBMers who have service anniversaries July 1, 2016 or after will enjoy the new recognition experience.
IBM said it will "continue to improve of this programme based on feedback, but decided after 15 pages of comments, much of it from disgruntled staff, to remove the comment function, a source told us.
"No longer do IBMers have to have the burden of carrying a gift home at five-year intervals (for example a Motblanc pen," said the source.
Of the congratulatory webpage, he said "Let's hope there won't be a table benefit charge for the costs of hosting the service."
Earlier this year Big Blue sent its "top performers" in UK and Ireland's sales team to Hawaii as a reward for their efforts, whilst their colleagues were departing on stat redundancy terms.
IBM has not responded to The Register's requests for comment as of publication. ®
Sponsored: Minds Mastering Machines - Call for papers now open