Win 10 Anniversary: 'We're beginning to check in final code' says Microsoft
No watermark in build 14383 though it isn't finished yet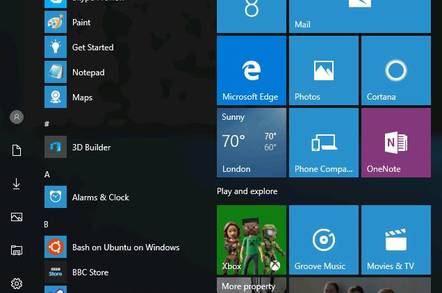 Microsoft has released build 14383 of Windows 10 Anniversary, for both PC and mobile, in preparation for its public launch on August 2nd 2016.
Most "Insider" builds feature a watermark on the desktop, showing the version and build number, but that has gone in this build.
"This is because we're beginning to check in final code," said engineer Donar Sarkar in the announcement blog post, though we are promised more builds before release day.
There are a bunch of fixes in this build but they are minor, as you would expect at this point in the release cycle.
"We fixed an issue where the Settings app was showing media controls in the taskbar preview window," said Sarkar, speaking about one of a dozen fixes for PC and a dozen more for mobile.
I am either an unlucky reviewer or some bugs remain, because I soon hit unexpected behaviour. I installed an Edge browser extension (a new feature in Windows 10 Anniversary), then clicked the top-right corner to close the browser. "Do you want to close all tabs?", said a pop-up dialogue box. I clicked "Close all", but nothing happened. I closed a couple of tabs individually, and then it worked. A minor detail for sure, but annoying.
What do users think? The built-in feedback application shows discontent with Microsoft's decision to kill "Messaging Everywhere", a feature that synched text messages between phone and PC, in favour of an enhanced Skype app. "Do not tie Messaging Everywhere to Skype," says a pessimistic feedback post. "If you do, we'll never see it working again." It is a topic that dominates recent feedback.
Complaints also continue about the inferior OneDrive integration in Windows 10 versus the placeholder feature in Windows 8, which showed all your OneDrive files but downloaded them only on demand.
Still, there are substantial new features to look forward to in Anniversary, including Ubuntu on Windows 10, Windows Hello for login by facial recognition (if you have the right hardware), and Project Centennial for running Windows desktop applications but wrapped as Store apps, for simple and clean installation and removal.®
Sponsored: Minds Mastering Machines - Call for papers now open