NASA curious about Curiosity's fourth 'safe mode' event
My safe word is 'camera', what's yours?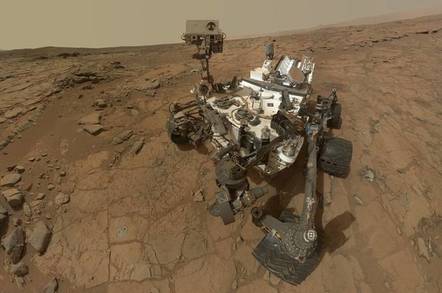 NASA mission scientists are puzzling over why the Mars Curiosity rover entered "safe mode" during the weekend.
In safe mode, the rover puts itself on hold: it ceases most activity, keeps itself safe, and follows a sequence to resume communications.
The unexplained glitch was announced by NASA here.
So far, the status update says, the agency's engineers reckon the glitch was caused by "an unexpected mismatch between camera software and data-processing software in the main computer".
The mission controllers have instructed the rover to send back more diagnostic information.
In March 2013, there were two safe-mode events. In one, the craft encountered a glitch in its flash memory, and NASA switched the rover to its standby computer; it parked a couple of weeks later to clear a bug when "when a command file failed a size check by its software".
Last year, its robotic arm went out of action in late February, but it returned to service in March.
NASA says the rover is now stable and communicating with ground controllers, meaning there's no reason to fear the worst this time around.
The agency notes that it's recently approved a three-year extension for the Curiosity project. Since its already been operating for nearly four years, the extension will take it to nearly seven years taking selfies.
Oh, and doing science. ®