Chilcot's IT spend: Tighter wallet than most public sector bods
Also: Iraq war 'unnecessary', Blair 'overestimated' own ability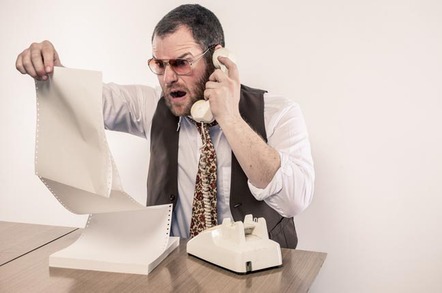 Sir John Chilcot, who today delivered his much-awaited report into the Iraq war, ran an impressively tight ship when it came to IT spending.
The IT and telecommunications spending for Chilcot's six-volume, 2.6 million word report, which is published today, amounted to £695,300 over the Iraq Inquiry's seven years of work, which cost £30,854,800 in total.
Put another way, Chilcot's IT spending amounted to just 2.2 per cent of the total cost of the inquiry.
Only £94,300 was spent in this area during 2014/15, however; a whopping 6.9 per cent of that year's total £1,358,500 spending. The costs for 2015/16 have not yet been released.
According to The Register's beer-mat calculations, this is significantly under the average public sector IT spending of 3.5 per cent of budget. Chilcot has thus, we propose with admittedly little evidence, spent 38 per cent less than the public sector usually does.
IT Angle?
Britain lost 179 military personnel in Iraq during the invasion and occupation of the country, which took place between 20 March 2003 and 18 December 2011.
There had been much opposition to the war before its announcement, and when claims such as Iraq's possession of Weapons of Mass Destruction (WMD) were ultimately unproven (and popularly assumed false) the then Prime Minister, Gordon Brown, announced what would become known simply as the Chilcot Inquiry.
Speaking this morning, Sir John Chilcot stated that, "in 2003, for the first time since the Second World War, the United Kingdom took part in an invasion and full-scale occupation of a sovereign State. That was a decision of the utmost gravity."
"Saddam Hussein was undoubtedly a brutal dictator who had attacked Iraq's neighbours, repressed and killed many of his own people, and was in violation of obligations imposed by the UN Security Council," added Chilcot, but such an issue was not the focus of the inquiry.
Instead, Chilcot sought to answer "whether it was right and necessary to invade Iraq in March 2003; and whether the UK could – and should – have been better prepared for what followed."
On these points, the Inquiry concluded "that the UK chose to join the invasion of Iraq before the peaceful options for disarmament had been exhausted" and that "military action that that time was not a last resort."
Chilcot also concluded that "the judgements about the severity of the threat posed by Iraq's weapons of mass destruction – WMD – were presented with a certainty that was not justified," that "despite explicit warnings, the consequences of the invasion were underestimated. The planning and preparations for Iraq after Saddam Hussein were wholly inadequate," and that the government "failed to achieve its stated objectives."
Among information in the 2.6m words Chilcot has published is confirmation that Tony Blair sent a letter to US president George Bush on 28 July 2002 stating "I will be with you whatever" while encouraging Bush to seek UN Security Council clearance for the war.
"Blair overestimated his ability to influence US decisions on Iraq." Chilcot concluded. ®
Sponsored: Detecting cyber attacks as a small to medium business