Forget YouTube – meet ChewTube: Strangers watching millennials eat
Yeah actually it's probably time to switch off the internet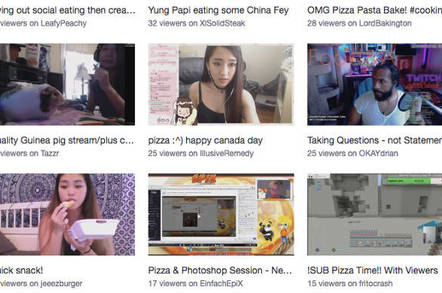 Pic Gameplay streaming site Twitch.tv says it will be launching a dedicated channel for live videos of people eating.
The Amazon-owned website says its "Social Eating" channel will allow its army of amateur and professional video broadcasters to "socialize with their viewers over their favorite meals".
Twitch says you have South Korea to thank for this cyber-graze-craze. The San Francisco-based upstart says the country's infatuation with watching people (mostly young ladies, but a surprising number of blokes) tuck into nosh helped push its decision to create a dedicated online corner for real-time, live-streamed eating.
You can also thank Twitch's "creative" category, where streamers would show videos of themselves preparing and cooking food. However, under the rules of the category, they were only allowed to create and not consume, so streamers were banned from actually chowing down on their creations. Apparently, Twitch management realized this was a large enough problem to open an actual "eating" category and [Am I paying you to write this? – ed.]
"In the case of Social Eating, we were getting a lot of demand from our Korean users given how this is a huge cultural phenomenon in their part of the world. We were also receiving feedback from our users who had embraced our platform's Creative category for cooking, but lamented they couldn't spend an equal amount of time eating what they prepared," Twitch APAC director Raiford Cockfield said in what sounds a lot like an apology.
"While it is definitely a unique request, the Twitch community is nothing, if not unique, and we support their passion and interests."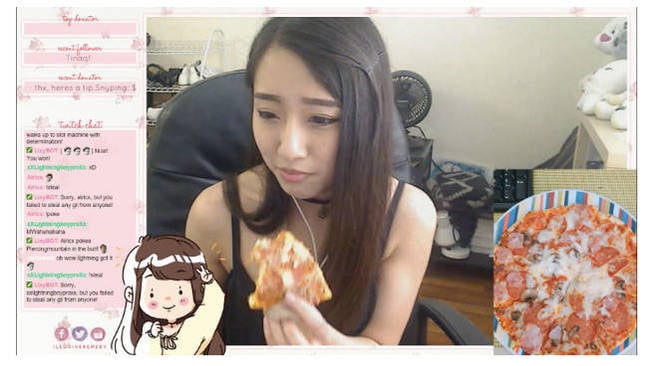 Tell your parents you're having pizza with friends, and leave it at that
Cackle if you must, but in a world where people are paid money to stream themselves playing games online, or are producing and consuming erotic fanfic about turmoil in Europe, what's a bit of noodle-slurping between friends? ®