Brexit-bored Brits back to bashing the bishop after ballot box blues
Even footy didn't dampen self-love happy folks' ardour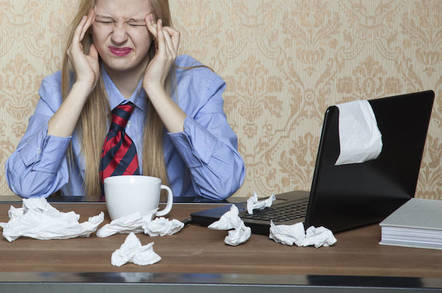 British people are now bored of Brexit and have returned to using the Internet for what it was made for – pornography.
Although the country has been thrown into chaos, with the Prime Minister announcing his resignation and refusal to clean up the mess left behind after Thursday's EU referendum result, normality has been restored on the Internet.
Over the past week, the relative number of Google searches for "brexit", "EU referendum" and "boris johnson" overtook those for "porn".
The number of searches for Brexit-related terms rose slowly, before shooting up on results day when the results were finally bared to all.
But the referendum couldn't hold Britain's attention for long, and the following day people numb with disbelief returned to Googling online smut to get their kicks.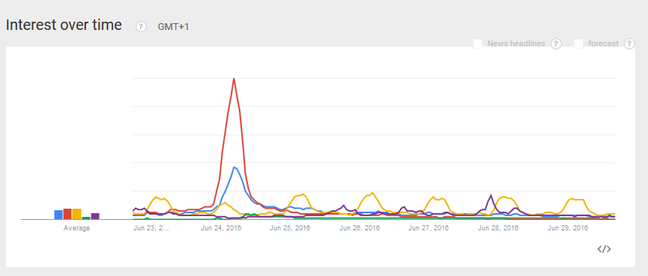 Brexit vs smut: A Google Trends graph. Blue = "brexit", red = "EU referendum", yellow = "porn", green = "boris johnson", purple = "football"
Euro 2016 briefly provided some relief as people desperately clung on to hopes of winning – ahead of England's game with Iceland.
Football searches took over anything Brexit-related and lagged behind pornography until kick-off on Monday. Unfortunately, disaster unfolded on the pitch and England was ousted from Europe for a second time.
To cope with the disappointment, straight after the game football searches began to wane and porn-related ones dominated again.
At the time of writing, even with the catastrophes unfolding in Labour and Conservative headquarters, netizens are far more interested in grumble flicks than finding out who might be the next leader of the country. ®
Bootnote
The graphs on Google Trends are highly subject to the variables used as search terms. The data is scaled based on the average search traffic of each variable, and using a different set of search terms as comparators completely skews the results.
The results only make sense in relation to the search variables used. It does not give any information on the amount of people Googling a particular search so cannot be taken as definitive evidence. But who cares when we're talking about the popularity of skin flicks, eh?