Can gigabit fibre services revive Adelaide?
South Oz government to open up academic network to commercial customers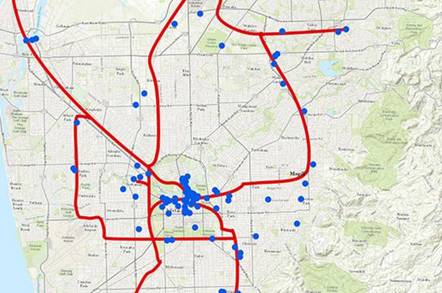 The South Australian SABREnet, the local academic network that connects universities to the national AARNet network, is going to be expanded to provide high-speed connections for Adelaide businesses.
Premier Jay Weatherill said yesterday the government will sling AU$4.7 million at the project, which will offer services up to 10 Gbps.
The network is already quite extensive. Built over more than a decade, it now stretches more than 200 km, stretching from just south of Noarlunga Centre to Kangaroo Flat in the north, with extensive connectivity in central Adelaide.
"Gigcity" locations will include the Tonsley Innovation District (once the Chrysler plant, later bought by Mitsubishi), Technology Park at Mawson Lakes, the Techport Maritime Project at Port Adelaide, St Paul's Creative Centre, the Thebarton BioScience Precinct, the Majoran Co-working Space, Hub Adelaide and the Stretton Centre.
Neither the government, SABREnet or the new Gigcity initiative have announced tariffs for the network.
+Comment: South Australia has been hammered by the decline of Australian manufacturing, suffering a triple-whammy in the end of Australia's auto business; the decline (partly reversed by recent contracts) of local ship-building; and a steel market suffering in the face of fading Chinese demand.
It has, on the other hand, something of a tradition of connectivity around Adelaide. The state gave birth to ISP Internode (since acquired by iiNet and then TPG). Before its acquisition, Internode (and sister company Agile Networks) built microwave networks outside of Adelaide, and a fibre network in the CBD.
The SABREnet build is, however, more extensive. At the very least, it will give Australian a crucible in which it can test the belief that connectivity's benefits can be measured in economic recovery.
The trick for the partners in the network will be setting prices. With a network already in place, Vulture South doesn't expect much of the $4.7 million to go on pulling new fibre: the focus will be on building the business processes and services.
SABREnet's full network map is here. ®