Oracle: Cloud-first for 12.2 update – on-prem world will have to wait
You'll eat Larry's fluffy white stuff and enjoy it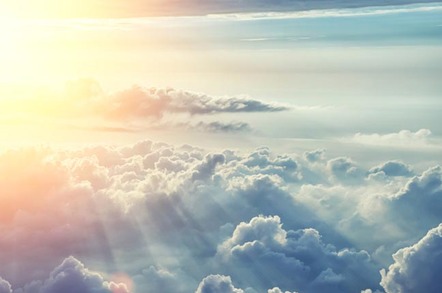 Oracle is cranking up the pressure on customers to consume its wares as-a-service by initially distributing the updated 12.2 database on a cloud-only basis.
Talk of the shift - that will prevent the company's existing installed base of on-premise punters from accessing new multi tenancy functions - was first spotted across the pond and latterly confirmed by Oracle veep of database product management, Penny Avril.
Avril went public on the product release at an Oracle user group meeting in Glasgow this week. She said it will be available on a "cloud first" basis during the second half of this calendar year, before it is extended to those stuck in the old world.
Oracle isn't the only company forcing customers to move to the cloud, in fact it is late to that particular method of selling; Microsoft last year made it far more costly for UK government customers to use desktop software as they always had done under an Enterprise Agreement - it was 46 per cent more expensive than cloud versions.
Both companies have also had their claims of cloud revenue disputed - in the case of Microsoft it was former CEO Steve Ballmer branding talk of run rates revenues as "bullshit". In the case of Oracle it was a former employee, Svetlana Blackburn, who alleged she was fired as a "senior finance manager" for refusing to artificially inflate Oracle's cloud division sales.
Oracle is now suing Blackburn for "malicious prosecution", and in turn lawyers for Oracle shareholders are foaming at the mouth in anticipation of protracted lawsuits - like there is any other kind - over Oracle's "fake claims".
In a statement sent to El Reg at the time, an Oracle spokeswoman said the company was "confident that all our cloud accounting is proper and correct. This former employee worked at Oracle for less than a year and did not work in the accounting group.
"She was terminated for poor performance and we intend to sue her for malicious prosecution," the PR rep added. Oracle claimed it had continued to "dramatically overachieve" in cloud revenues during a Q4 2016 conference call, though those revenues still account for a much smaller proportion of revenue ($2.85bn annually) than on-premises software ($26.1bn annually).
Cloud is growing, however, and software licensing continues to shrink. This is true right across the industry from Adobe, to IBM to Microsoft.
While the first major update to Oracle's database product since 2013 is being used to push customers onto its cloud offering, there is little urgency to upgrade for clients whose use of it sits under a packaged application.
Gartner analyst Donald Feinberg told The Reg that shifting to a cloud-first policy indicated "Microsoft is competition for them".
"For years they ignored Microsoft. Whenever you listen to their [Oracle's] financial calls, whatever vendor they start knocking in the call is who they think of as competition. Amazon and Microsoft got bashed in the call last week, they've calmed down on Salesforce. They used to mention SAP, but they're not even mentioned.
"I think Oracle realises that Microsoft is a serous threat, that they need to move to the cloud, and that the best way to do that is with marketing slogans and with the right technology going into the cloud."
Oracle had not responded to The Register's requests for comment at the time of publication. ®
Sponsored: Webcast: Build the next generation of your business in the public cloud