Special delivery: Activists drop 100,000 net neutrality complaints on FCC
Wheeler gets flooded with gripes about zero-rating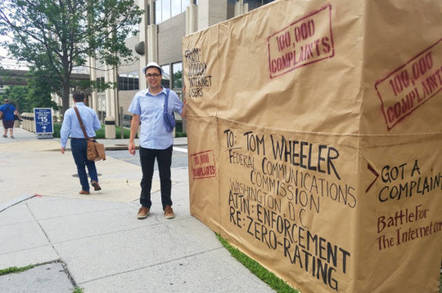 Activists have delivered a massive package to the US Federal Communications Commission (FCC) that they say contains roughly 100,000 citizen complaints.
Members of Fight for the Future say they collected the complaints from Americans who want the commission to investigate the use of "zero rating" programs by telcos.
The complaints ask the FCC to address the controversial practice in which streaming media sites pay mobile carriers to omit their content from monthly user data caps.
Mobile carriers have defended the practice as complying with Open Internet rules, but critics charge that by omitting some services from data caps and not others, the carriers are violating net neutrality principles.
"Many of the complaints were targeted at specific zero-rating schemes by Comcast, Verizon, AT&T, and T-Mobile from individual customers," Fight for the Future said.
"80,000 of the complaints hand delivered to the FCC today were also delivered into the Open Internet docket in the FCC's ECFS [Electronic Comment Filing System]. In addition, over 20,000 were delivered into the FCC's new Zendesk complaints system."
The complaints were delivered to FCC chairman Tom Wheeler by Fight for the Future activists who packaged the requests as a single, oversized parcel. The group said that within the package were printouts of each complaint as well as requests that the FCC investigate the practice of zero rating and determine whether it violates the commission's Open Internet rules.
"Last year, millions of Americans called on the FCC to protect the open Internet and pass strong Net Neutrality rules," said Fight for the Future co-founder and co-director Holmes Wilson.
"Now that these rules are the law of the land, the FCC should listen to the large number of people who are fed up with their carriers distorting competition and threatening consumer choice with these zero-rating schemes, and take action to stop these clear violations of net neutrality."
The FCC has not yet said whether it will act on the complaints. ®