Not smiling for the camera? Adobe's Creative Cloud suite can fix that
Update includes face-shaping, font matching, magic cropping and more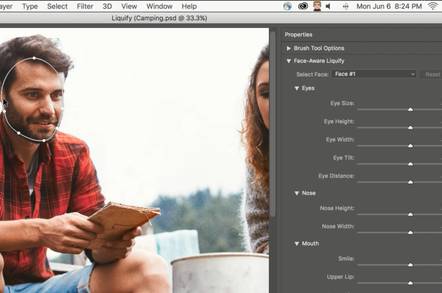 Adobe is updating its Creative Cloud suite to version 2015.5 and including a new Photoshop feature which modifies facial expressions after the event.
Called Face Aware Liquify, the feature extends the existing shape-bending Liquify filter with face recognition and tools to tweak eyes, nose, mouth (including smile control), cheeks and so on, in order to achieve the desired expression. A typical use case, Adobe told press at a briefing, would be wedding photographs where someone in a group shot was not looking sufficiently joyful.
Another new feature, called Content-Aware Crop, covers the common scenario where you need to straighten an image, but in doing so you lose important content at the edges. Content-Aware Crop lets you include all of the image you require, and automatically fills the gaps using an extension of the existing Content-Aware Fill capability.
Designers will also benefit from Match Font, the ability to detect a font in a bitmap image such as a photograph, and find the closest available font so you can add your own text in the same style.
Adobe Stock, an image library introduced in Summer 2015, has several enhancements in this release. It is more deeply integrated with applications like InDesign, Photoshop and Illustrator, so you can search, insert and license images using an upgraded Libraries panel without leaving the application. When you license an image and download a full-resolution version, any crops and edits you have made are preserved.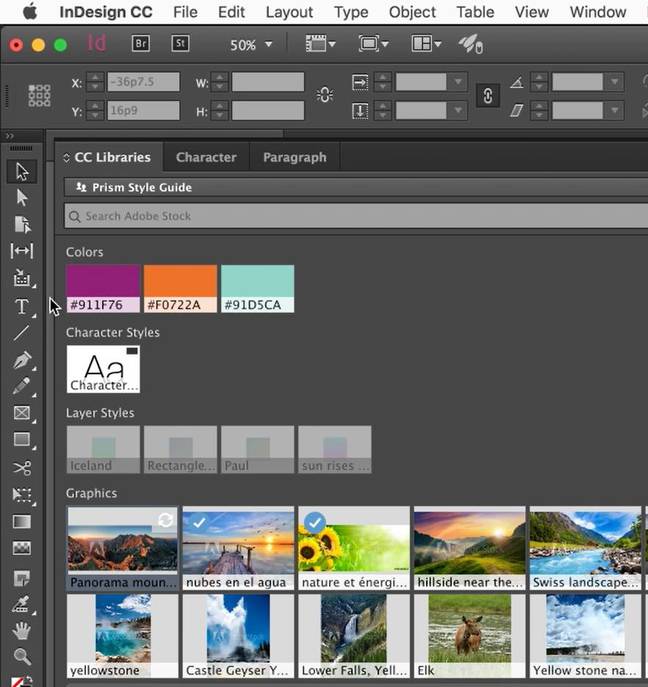 Enhanced library panels improve the integration of Adobe Stock with applications like InDesign
The company is also introducing a Premium Collection of "hand-selected works from extraordinary artists," to quote the press release, along with the ability to add your own images to Stock via a forthcoming Contributor Portal. After signing up, you will be able to upload your work directly from Lightroom, Adobe's application for processing and organising your photographs.
Adobe says that integration with Stock is good for productivity, though it is bad news for competing image libraries which do not benefit from the same integration. The company says there are 55 million assets in Stock and 100,000 in the Premium Collection.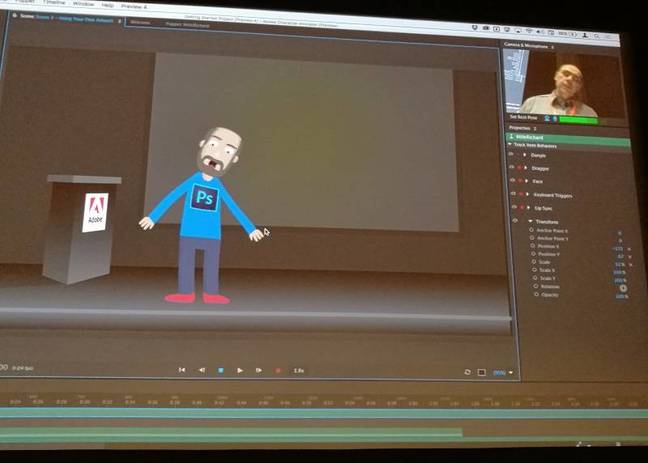 Adobe Character Animation lets an animation mimic a human broadcaster
After Effects, for video post-production, has a new feature called Character Animation. This lets you link an animated character to a live video stream, so that the character mimics the actions of a human broadcaster, with lip sync and gestures. This means that famous cartoon characters could present at your company event, for example, subject to the necessary permissions.
Other new features include 3D viewing in the Premiere Pro video editing application, support for Microsoft's 3MF 3D printing format, and in the Audition sound editor, an Essential Sound Panel which is intended to simplify common tasks for non-experts. Animate CC, the product formerly known as Flash, now supports responsive web pages based on drawing to the HTML5 Canvas objects.
Photoshop's ability to manipulate photos is already so well known that people talk of "photoshopped images." Has it gone too far? While it is perhaps regrettable that technology allows a photographic record to be so easily manipulated, that is not Adobe's fault. Photographers have been exploiting tricks of light since the earliest days of the profession. ®