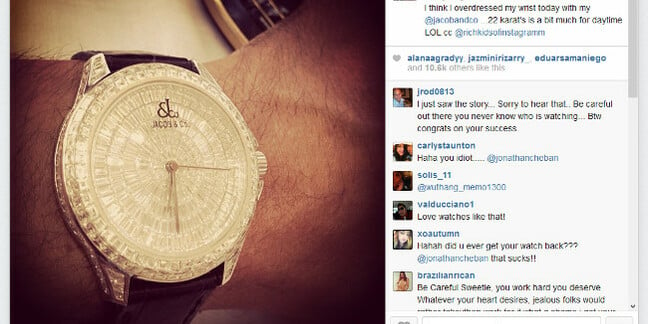 El Reg got hands-on with the Solarin $14,000 ultra-high-end Android smartphone during a trip to Tel Aviv this week.
As previously reported, the Solarin handset is an Android-based smartphone pitched at privacy-conscious executives and the ultra-wealthy.
The smartphone comes with a 24 megapixel camera and integrated 3D audio as well as support for Wi-Fi and a high end metal chassis. The audio and visuals are undeniably impressive. The tech features an eight-core processor, a Qualcomm Snapdragon 810.
Sirin Labs' hardware features Koolspan's TrustChip processor. The phone operates in two modes: a regular high-end Android phone where users can download apps and an encrypted mode isolated from the operating system and connected devices.
A switch on the back of the device enables "shielded mode" for encrypted texts and calls. This enclave comes with a walled garden. Sirin Labs is a Swiss firm but its R&D team is based in Israel and its marketing and sales team is based in London. The device is pitched at business users, tech lovers and high net worth individuals.
Chief executive officer Tal Cohen, whose background is in internet advertising startups rather than mobile or security, said his firm had identified a niche market comparable to the high-end watch market but for smartphones. Its potential customers wanted ease of use, a general purpose phone and security in one device. The device is pitched at investment bankers, lawyers, accountants and investment houses.
The smartphone features mobile security from Zimperium and support for Qualcomm's TrustZone technology. Cohen described the devices as Mobile Device Management "friendly" but wasn't immediately able to provide details even when pressed on this point. MDM technology allows corporate IT managers to support the BYOD trend, aspects of which involve people using personal devices instead of relying on company-issued kit.
Such execs looking for the last word in security can already use the Blackphone, which comes from crypto wars hero Phil Zimmermann and former Navy SEALs, a formidable combination. Much is known about the security aspects offered by the Blackphone, whereas the Solarin handset's security bona fides are yet to be substantiated or even specified. Cohen told El Reg that smartphone featured anti-tampering on the ROM as well as app protection from anything below "agency-level attacks".
Post Enron and after the LIBOR rate-fixing scandal, the use of the technology in investment banking or other heavily regulated industry seems problematic. Yet that's not really the market the Solarin is aimed at, even though the marketing blurb may say otherwise. The Solarin handset is a gold-plated iPhone for those who prefer Android.
"It's the most advanced technology for those where cost is not an issue," according to Cohen. Asked by El Reg what car the Solarin would be if it was an automobile, Cohen said it would be a "Lamborghini, McLaren or Bugatti."
Initial sales outlets include a store in Mayfair and the Heathrow VIP area.
Independent security experts remain unconvinced about Sirin Labs' proposition – especially in the absence of details. Security through obscurity isn't going to win hearts and minds among mobile security experts.
"The anti-virus will be essentially a waste of time, and expecting a plug-in card to secure Android's microphone and speaker is fundamentally flawed logic," a mobile security expert who asked not to be named told El Reg. "There might be some value in some of it, but Blackphone is a much more sound approach overall." ®
Sponsored: Webcast: Ransomware has gone nuclear