Queen's birthday honours shower knighthoods and gongs on tech's finest
Brother boss says spots, white socks and a BTEC no barrier to success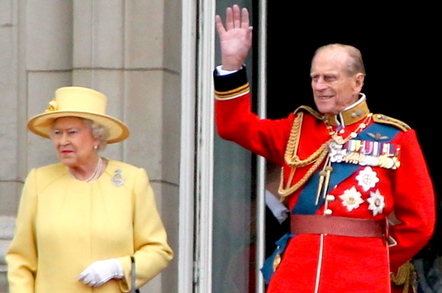 The UK IT industry was plunged into paroxysms of modesty, humility and genuine self-effacement today, as the PRs got to work in the wake of the Queen's birthday honours list.
Tech luminaries made a good showing this year, from the lower rungs of BEMs and MBEs right up to dizzying heights of knighthoods.
On which note, arise soon to be Sir Phillip Hulme - the Computercenter co-founder Hulme will get a tap on the shoulder for services to philanthropy. He'll be able to discuss tech issues with a number of his co-knights, including Dave Stewart. The ex Eurythmic and sometime jammer with Microsoft co-founder Paul Allen gets something to hang up next to his gold records for services to music and charity.
The knights are followed by a veritable army of CBEs, OBEs and MBEs with tech connections.
Fujitsu UK chairman Simon Blagden and Raspberry Pi founder Eden Upton are both named Commanders of the British Empire.
Upton dedicated his award to others, via Twitter..
Thanks all. A tribute to colleagues at @Raspberry_Pi and @Broadcom; @element14, @RSComponents and @SonyUKTEC; our community; and @Liz_Upton.

— Eben Upton (@EbenUpton) June 10, 2016
Swelling the ranks of the Officers of the British Empire are Unruly Founders Scott Button and Sarah Wood, Shazam boss Andrew Fisher, Rewired State founder Emma Mulqueeny, and Zoopla boss Alex Chesterman.
The foot soldiery of the Order of the British Empire are enhanced by MBEs for the likes of Swiftkey co-founders Ben Medlock and Jonathan Reynolds, Skyscanner co-founders Bonamy Grimes and Barry Smith, Techcrunch editor Mike Butcher and Brother MD, Phil Jones.
It's not just running a tech firm that wil get you noticed. Professor Anthony Finkelstein of UCL and the Alan Turing Institute gets a CBE, while Michael Simons, senior applications support officer for the Parliamentary Digital Service is made an MBE for parliamentary service and voluntary service to the Jewish Community in Sutton, and HMRC's Colin McMurtrie gets an MBE for services to the development of digital services.
And networking channel veteran Neil Ledger gets a British Empire for nothing to do with tech at all, but for organising a long-running charidee golf and comedy day.
Like all his co-honourees, Ledger was self-effacing about his honour, saying "I'd like to dedicate this accolade to all the people who have helped organise the events over the years, all those who have donated auction prizes and finally all the people who have dug deep and donated to so many worthy causes."
However, it was Brother's Phil Jones who took top honours for tempering pride at the monarch's glance with the sort of humility you'd expect from a self-confessed BTEC-toting, "white socked, Cavalier driving fax salesman" turned MD.
In a heartfelt LinkedIn post, Jones tells us that "Being recognised with an MBE has never been a goal of mine, my purpose continues to be to 'uncover the unlimited potential in millions of others' and - as I write this - nothing has changed, although it's lovely to receive such a recognition."
"Kids from non-privileged backgrounds have as much to offer. They may not be an Oxbridge academic but they may well possess the personality to be one of your top people if given the chance." But hopefully not the white socks.
That would be where we'd normally sign-off, but we thought you'd also like to know that the co-founders of Brewdog snagged a brace of MBEs, and an MBE for "services in Support of Maritime Helicopter Capability" was awarded to retired commander Peter Flutter.
Congratulations to all. ®
Sponsored: Becoming a Pragmatic Security Leader