DiData CEO Brett Dawson calls it quits after 12 years
Just think how many airline meals that is...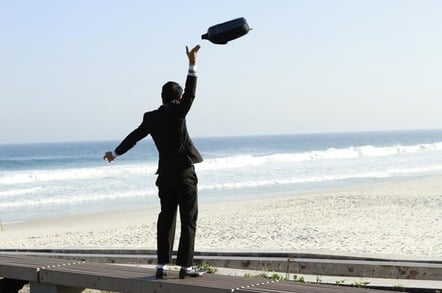 Dimension Data CEO Brett Dawson has quit with immediate effect after 12 years at the top, hundreds of thousands of air miles travelled and sales quadrupled.
The integrator confirmed today that current chief operating officer Jason Goodall is going a metaphorical floor higher in the organisation as Dawson's successor.
Executive chairman Jeremy Ord has nothing but good things to say about his departing general, as is customary in such situations.
He said Dawson had moved the annual sales dial from $2bn in 2004 to $8bn in the most recent financial year, spread the business's tentacles onto a global stage and helped negotiate the deal that saw NTT buy Dimension Data in 2010.
The outgoing CEO decided back in 2014 to plot a course to take the business to $18bn by next year but the Japanese owners decided to push for better profits rather than bulk.
Dawson joined Dimension Data's North America ops in 2001 as chief bean counter, moving across from South Africa ISP Internet Solutions, where he was chief exec.
His departure follows hot on the heels of the appointment of new UK boss Barney Taylor this week, replacing Calvin Goom who split in March. ®
Sponsored: Beyond the Data Frontier