US Supremes won't halt class-action legal battle against Google Adwords
America's highest court isn't coming to ad giant's rescue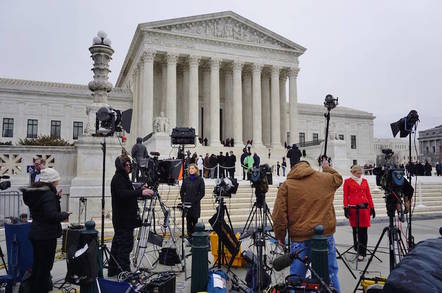 Google has failed to convince the US Supreme Court to derail a long-running ad-fraud class-action lawsuit. Proceedings will therefore continue against the advertising goliath.
Look under "certiorari denied" in Monday's Supreme Court listings [PDF] and you'll find Google, Inc. v. Pulaski & Middleman, et al, meaning the supremes have refused to take the case, effectively batting it back to the lower courts to continue hearing.
The lawsuit was brought against Google by Adwords buyers in California who bought advertising through the service between 2004 and 2008.
Until March 2008, advertisers couldn't decide where their ads would appear – other than choosing between Google properties or its content network – and the buyers allege Adwords appeared on parked domains and 404 error pages, which is next to pointless.
The northern California district court refused to grant class-action status to the legal fight, but this was reversed last year.
The lawsuit accuses Google of deceptive advertising and unfair, deceptive and unlawful business practices for allegedly tucking people's web ads away on pages no human would ever see.
Only in 2008 could advertisers choose to exclude error pages and parked domains. The class-action lawsuit seeks restitution for money lost in the four years prior. The supremes' refusal to hear the case means the legal battle can proceed in California.
It's separate to two Adsense fraud class actions, which were filed following allegations by a whistleblower. The cases allege that Google arbitrarily suspended publishers' accounts when payments were due. [pdf]. The cases were rejected on the grounds of insufficient evidence last year. ®