Space exploration: Are Musk and Bezos about to eclipse Gagarin and Armstrong?
Reg Summer lectures ponder changing of the astral guard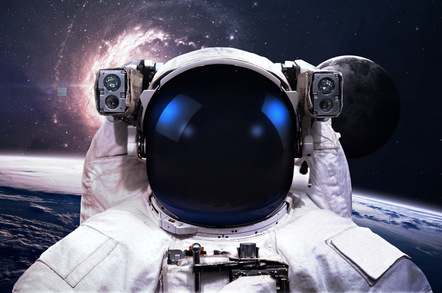 Once upon a time exploring space required a mix of the "right stuff" and some serious aeronautical chops. Nowadays you're as likely to need an out of this world ego and background in Silicon Valley financing.
At least that's one take on the modern era of space exploration - and you can explore the subject in depth and enjoy a few beers with the Reg team and your fellow tech fans by joining us on June 22 for our first Register Summer Lecture of 2016.
We'll be joined by International Space University's Prof Chris Welch, who will be discussing how business and science have come together to launch a new era in space exploration, potentially ending the nation state's monopoly on off-planet affairs.
And Chris should know. As well as being professor of space engineering and director of Master's Programs at Europe's International Space University, he is a vice president of the International Aeronautical Federation and a winner of the Sir Arthur Clarke Award for Space Education. So it's no surprise he has deep links with the companies and organisations reshaping space exploration worldwide.
From nanosats to asteroid mining, and beyond, this talk will be a must for anyone whose scientific or business ambitions stretch further than this planet. But tickets here.
But wait - there's more. Our Summer Lecture series will also be tackling issues closer to home, from the possibilities of AI and robots to the wonders and worries of the Internet of Things.
On June 28, we welcome Murray Shanahan, Professor of Cognitive Robotics at Imperial College, who will explain whether we should be scared about the prospect of AI and robots matching our own intelligence - and indeed whether we're already lagging behind. Buy tickets here.
And on July 5, IBM inventor and Newcastle Uni visiting prof Andy Stanford-Clark will explain what the Internet of Things really means for your job, for your home, for society in general, and the Isle of Wight ferry service. Buy tickets here.
The talks will be at the Yorkshire Grey on Theobalds Road, London. The doors will be open from 6pm, with the talk proper kicking off at 7pm. And yes, there'll be refreshments, both liquid and solid, on hand.
The format remains unchanged, meaning our speaker will give you a 40 minute dive into the topic at hand, with at least the same amount of time for questions. After a suitable break for refreshments of course. And there'll be plenty of time to quiz our speakers after the main talk, and to connect with your fellow Reg readers before and after.
It's the perfect way to exercise the grey matter and work your social and intellectual muscles before schools break up and the BBQ season kicks off. We look forward to seeing you there. ®