Microsoft's Scott Guthrie wrote code live on stage for Azure devs
Too much 'like a C# tribal gathering'?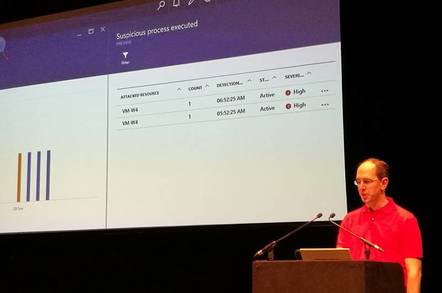 Microsoft's Executive Vice President of Cloud and Enterprise, Scott Guthrie, came to London's Mermaid Theatre on 3rd June 2016 to present to around 600 IT folk at the Azure Users Group, at an event called AzureCraft.
It is unusual for someone on this page to come to this type of event, and even to engage in the precarious practice of live coding on stage, no doubt reflecting Guthrie's wish to stay in touch with developers and the Microsoft community. Guthrie was co-inventor of the original ASP.NET, released with the .NET Framework 1 in early 2002.
Guthrie gave his usual pitch for Azure momentum – 120,000 new subscriptions per month, 600 million Azure Active Directory users and so on – though spending too much time on introductory material with which most attendees were familiar, before getting on to the more interesting topics such as the recently introduced Azure Functions (Microsoft's answer to AWS Lambda), the new Azure Container Service, which manages clusters of Linux-based containers, and the Azure Security Center, now in preview, which monitors your Azure resources and provides both policy recommendations and alerts when issues are detected.
"The containers are still bleeding edge," Guthrie noted. "Over the next couple of months we'll get more refined."
Guthrie also described the Elastic Database Pool, an Azure feature which has recently become generally available. This is a feature of SQL Database, the cloud-hosted version of SQL Server, which lets you allocate resources to a pool of databases so that individual databases can scale up and down freely, in terms of activity, provided they do not exceed the resources allocated to the pool.
"Instead of paying separately for each database you just pay for the pool," said Guthrie.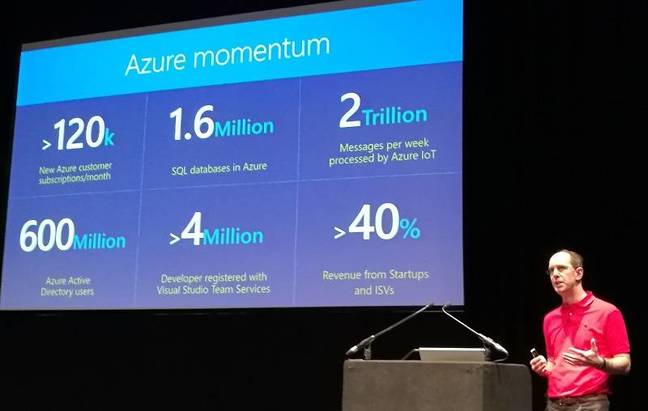 Guthrie brags of 120k new Azure subscriptions per month and other Azure growth stats
Azure Security Center is another recently introduced feature, now in preview, a dashboard for monitoring the security status of Azure resources.
"We'll tell you when you have systems that don't have monitoring and don't have encryption and don't have endpoint protection set up." Guthrie stated. "We'll do pro-active security alerts when we see suspicious things happening. For example, we can say whether or not suspicious processes are executing on any of your virtual machines."
The Security Center looks useful, though when I tried it on my demo VMs its main recommendations were to purchase additional services, such as anti-malware software for servers and a "next generation firewall" from a Microsoft partner such as Check Point or Barracuda.
Guthrie did not reveal anything new in Azure, though your correspondent spotted "Sneak peek: new Azure command line experience" flashing past on a slide skipped for reasons of time.
Microsoft is doing something right with Azure, with the scale necessary for a public cloud (now 32 Regions worldwide, according to Guthrie, with Regions composed of multiple data centres), rapid introduction of new features, and integration with Office 365 via Azure Active Directory, which is the hosted directory service used by both Office 365 and Azure.
The issue though is the extent to which Microsoft can reach beyond its existing community of .NET developers and Microsoft platform businesses to engage with those who develop on Macs, code in languages such as Java, Python or PHP, and deploy to Linux, for whom Amazon Web Services is a more natural cloud destination.
"AzureCraft is too much like a C# tribal gathering for my liking," tweeted F# language designer Don Syme. "Feels wrong. Azure needs to be socially welcoming to all dev communities."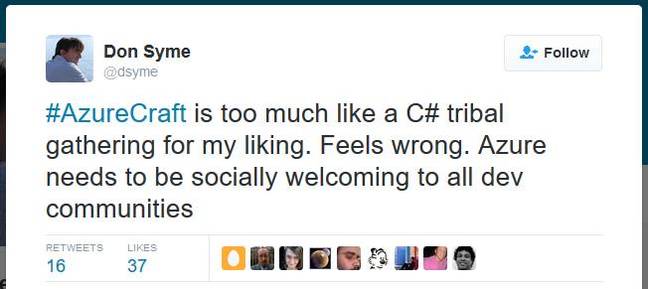 Well, this was the Azure User Group, and as such has firmly Microsoft-platform roots.
Guthrie's demos were mostly presented via Google's Chrome browser, and the company is trying to appeal beyond its Windows-centric core market with initiatives such as collaboration with Docker, Red Hat and Chef, open-source and cross-platform .NET, and Visual Studio Code for Mac and Linux.
Microsoft's acquisition of Xamarin earlier this year confirms its intent to provide first-class support for iOS and Android, and a demo of the Xamarin tools for Visual Studio was shown today to pitch the idea of Azure as a strong back-end for apps running on any device.
Getting the technology in place is one thing; building a new and more diverse IT community around it is another, and if anything even more challenging. ®