ALP won't confirm Digital Transformation Office funding
We keep asking, but all the Shorten Squad will say is they liked online services first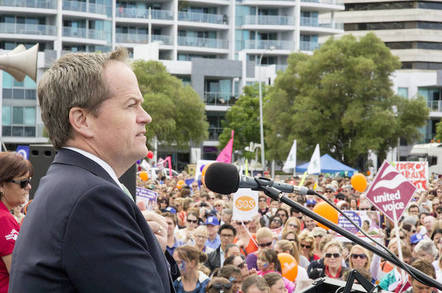 Australia's opposition Labor Party (ALP) won't commit to continued funding or operations of the nation's Digital Transformation Office (DTO).
The DTO is modelled on the United Kingdom's Government Digital Service (GDS) and has adopted many of its methods and tools as it pursues a mission of reforming online service delivery.
The DTO's been funded with AU$245m.
Agains the background of Australia's current election campaign, The Register asked the ALP if it would commit to that funding, or to the continuation of the DTO as a seperate entity.
The answer, provided by a campaign headquarter spokesperson, follows:
Labor is supportive of Digital Transformation Office's key objective to get "government services…delivered digitally from start to finish." Of course we are – it's Labor policy. Labor announced its "Digital First" policy in the June 2013 update to the National Digital Economy Strategy. The objective of Digital First is "priority government transactions will be end-to-end digital by 2017" so that "by 2020, four out of five Australians will choose to engage with the Government through the internet or other types of online service."
The spokesperson went on to label the DTO "another example of Malcolm Turnbull making big promises and failing to deliver."
The Register asked the ALP how and why it rates the DTO a failure, but did not receive a reply to that question.
We also asked, twice, if the ALP intends to continue funding the DTO and operating it as a discrete entity. Both of those inquiries have not generated a reply and the topic of online services delivery is not mentioned on the ALP's policy website or booklet (PDF).
Nor, at the time of writing, has the ALP revealed its national broadband network (NBN) policy, other than with very broad hints about a "fibre" NBN.
ALP policy does include a slew of STEM and coding-for-kids initiatives designed to create a skilled workforce. ®
Sponsored: Becoming a Pragmatic Security Leader