TalkTalk scam-scammers still scam-scamming
Customer targeted by fraudsters seeking remote access of her PC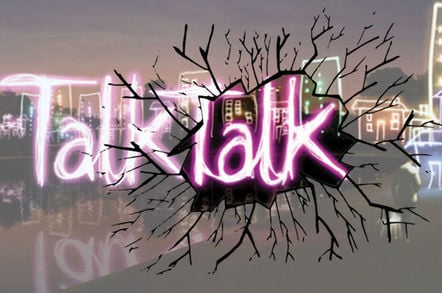 Updated TalkTalk customers are still being targeted by scammers, following a series of data breaches at the company.
In the last four years, TalkTalk has had to admit to four different breaches of data, two directly from the company itself and two others from partners here and in India. Most notorious was its attack in October last year, which hit nearly 157,000 customers. That had a direct impact on TalkTalk's bottom line, with profits plunging by 56 per cent for its full-year 2016.
TalkTalk customer Diane Jackson got in touch with The Register to report recent fraudulent activity which occurred on May 28. A scammer purporting to be from the company's call centre in India called, claiming they were contacting her regarding the cyber attack.
"They told me they were contacting all their customers regarding the hacking that happened last year."
She was told her PC had been affected – and she gave the caller remote access to make the necessary changes. "I became suspicious when he then asked me to log into my bank account for a refund. I then ended the call."
The caller knew her name and that she was a TalkTalk customer. Jackson is ex-directory.
Jackson said she contacted TalkTalk and reported the call – but was given "extremely poor" customer service. "I made two formal complaints and was advised I'd be contacted within 24 hours. However, no one phoned. They didn't seem to take it seriously at all."
Jackson requested to cancel her contract due to her lack of trust in the company, but was told she'd need to pay £247 to leave early. "Despite it being an 18-month contract which I began in 2013 and have not since renewed."
Another customer who was contacted by scammers in December separately got in touch with The Register to share the number they used to defraud him by £257. The Register phoned the number, but the respondent purporting to be a TalkTalk representative hung up when we put it to them the number was being used by fraudsters.
In February, it emerged that some TalkTalk customers had their maintenance visits data breached by fraudsters in an attempt to gain remote access of their computers. Customers received calls from operators claiming to be from TalkTalk who knew details of recent engineers' visits, including their names and what had been discussed.
TalkTalk said the issue has been investigated and reported to the Information Commissioner's Office, and it has not received any more complaints about this since the end of 2015.
The Register contacted TalkTalk for a comment on Wednesday June 1 regarding the ongoing fraudulent activity, but so far the company has remained QuietQuiet. ®
Update
A TalkTalk spokesperson has contacted us to say: "We are sorry to hear Ms Jackson has been contacted by a phone scammer. TalkTalk looks at these situations on a case by case basis, but unfortunately phone and email scams (where customers are persuaded to provide criminals with information which is then used to steal from them) are a serious and growing problem affecting consumers and companies across the UK, not just TalkTalk."
He added the company has undertaken an "extensive" awareness campaign alerting customers on how to protect themselves against scammers".