One espresso is not theft, Oz judge rules, it's part of civilization
You've got to FIGHT! For your RIGHT! To COFFEE!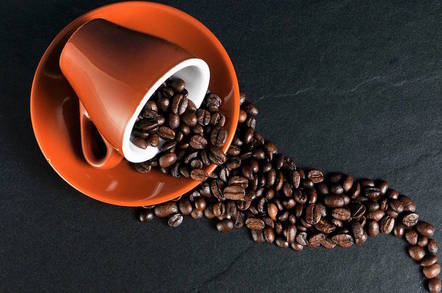 Give us your desperate IT students, struggling to pay the rent on 20 hours a week as a cleaner, and Australia can at least give you the odd cup of coffee.
In a case that shocked Vulture South to its very core, an international IT student was sacked in January for brushing up on one of the core skills of the industry: locating free coffee, wherever it may exist.
Thankfully, Fair Work Australia (for non-Oz readers, it's the court created to prevent arbitrary sackings and chase up bosses who diddle their employees' pay packets) has restored the natural order of things, by reinstating the cleaner and ordering his employer to compensate him for lost wages.
The cleaner, one Raj Bista, was paying his way through an IT master's degree by working 20 hours a week (the limit under his visa) as a contract cleaner. He was sacked because, having arrived early at customer CMC Markets, he used the company's coffee machine. The facilities manager for the derivatives dealer spotted him and told him off; he apologised; she took it up with his employers, and he was sacked on the basis that his unauthorised (by the facilities manager) coffee constituted "theft".
His union brought the FWA case on his behalf, and FWA vice-president Adam Hatcher has reinstated him with more than AU$9,000 compensation.
The judgement notes that other CMC Markets staff had previously invited Bista to make himself coffee, and on a previous occasion when there were leftovers from a conference room spread, let him sample some of the food on the basis that "you work here, too".
Bista quite reasonably felt he was welcome and that he had, at least, permission to use the coffee machine.
FWA agrees: "In my view, any reasonable person would regard his conduct as involving no more than a trivial misdemeanour."
We could, however, have wished that VP Hatcher hadn't felt the need to quote Alain de Botton in his judgement. ®
Sponsored: Minds Mastering Machines - Call for papers now open