Tech titans demand free speech law to head off President Trump
And Republicans in Congress backing it for the same reason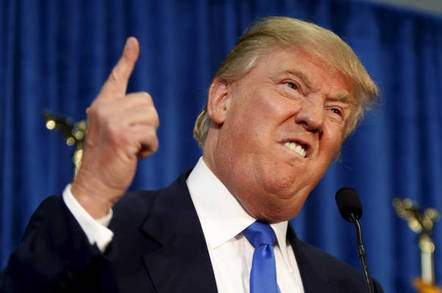 Donald Trump has already started bringing America together by forging an unlikely alliance between Republicans in Congress and Silicon Valley.
Both groups are working on pushing through a bill aimed at protecting free speech online before the end of the Obama Administration, because neither believe a President Trump would support it, given his seemingly endless legal threats against people he decides have offended him.
The SPEAK FREE Act (achieved through the word-mangle "Securing Participation, Engagement, and Knowledge Freedom by Reducing Egregious Efforts") is sponsored by California Democrat Anna Eshoo and Texas Republican Blake Farenthold.
It would amend the federal judicial code to allow someone being sued to file a special motion to dismiss the suit under a "matter of public concern" defense. It is intended to undermine so-called "strategic lawsuits against public participation," or SLAPP, suits.
The plaintiff in a SLAPP lawsuit usually does not expect to actually win, but uses it to censor or intimidate critics into silence: a tactic that presidential candidate Donald Trump uses almost reflexively.
Here we go
Among the people Trump has sued or threatened to sue are:
Former presidential candidate Ted Cruz over a TV ad. Cruz responded: "You have been threatening frivolous lawsuits for your entire adult life. Even in the annals of frivolous lawsuits, this takes the cake."
Another candidate, John Kasich, whose purported attack ads hadn't even been broadcast.
A journalist, Timothy O'Brien, who claimed Trump wasn't really a billionaire. O'Brien subsequently noted: "Donald Trump has a long history of trying to bully, intimidate or silence opponents and critics, including me."
A rapper, Mac Miller, who named a song after Trump.
His ex-wife, Ivana, because she talked about their relationship.
TV host Rosie O'Donnell for saying he was bankrupt. "I look forward to taking lots of money from my nice fat little Rosie," he commented.
MSNBC's Lawrence O'Donnell for suggesting he was worth less than a billion dollars.
Miss USA contestant Sheena Monnin because she said on Facebook that the contest was rigged.
The Chicago Tribune because its architecture critic, Paul Gapp, said Trump's new tower would not be bigger than the Chicago Sears Tower.
ABC, when he found out the TV network was planning a two-hour biopic on him. The film was canned.
And that is just the first 10.
As a result, cosponsor of the SPEAK FREE Act Farenthold – who actually supports Trump in his run for the White House – told Politico's Nancy Scola: "Obama will sign this. I don't think Trump will," in explaining why he is pushing for it to be approved this Congressional session.
Tech support
Farenthold has found significant support from tech industry groups in Washington DC. Head of the Consumer Technology Association, Gary Shapiro, as well as Yelp's director of public policy Laurent Crenshaw, have spoken up publicly in favor of the bill, on both occasions noting their fears over the fact that Trump would not be in favor of protecting criticism.
Other well-known companies in favor of the law include Facebook, Twitter, Uber, Airbnb, Glassdoor and TripAdvisor – all of which rely heavily on customer-provided comments and reviews to work effectively.
There have been an increasing number of lawsuits from companies and individuals against such companies in an effort to quash criticism of them or their services, and the companies are concerned that without a specific protection, the practice could become so widespread that consumers will become fearful of posting any criticisms of companies that provide poor service.
Some critics claim the proposed legislation goes too far and would prevent people from being able to challenge people that purposefully attempt to damage their reputations. It's a safe bet that Donald Trump would agree with them. ®