Q. What do you call a sales-growing letdown? A. Pure Storage
All-flash box biz boosts sales, deepens losses, comes out swinging at analysts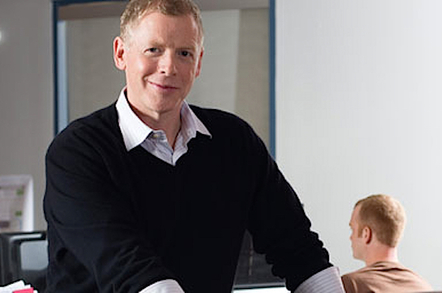 All-flash shipper Pure Storage delivered higher-than-expected revenue for its first fiscal 2017 quarter, but also had the first quarter-on-quarter revenue decline in its history since the IPO. Analysts thought it could have done better.
Is this seasonality emerging for the first time or was there some other reason its turbo-charged growth rate faltered?
Revenues for the three months to April 30 were $139.9m, 89.9 per cent higher than a year-ago but 6.9 per cent less than the previous quarter, with product revenue being 12 per cent less. There was a net loss of $63.5m, 29.3 per cent worse than a year ago and 43 per cent worse than the $44.3m loss in the previous quarter [PDF].
CEO Scott Dietzen said in the earnings call: "That [89.9 per cent] growth rate is well above the annual growth rate Gartner projects for the solid-state array market, meaning we're increasing share in a highly competitive environment ... According to IDC, in just four short years of selling, Pure Storage has cracked the top 10 storage vendors worldwide; and we're growing approximately 10 times faster than anyone else on that list."
He hammered away at this kind if thing: "Our top-tier customers spend $12 over the next 18 months for each initial dollar, our product margins are best-in-class, and our growth rates are far and away best-in-class."
Eat your heart out, NetApp.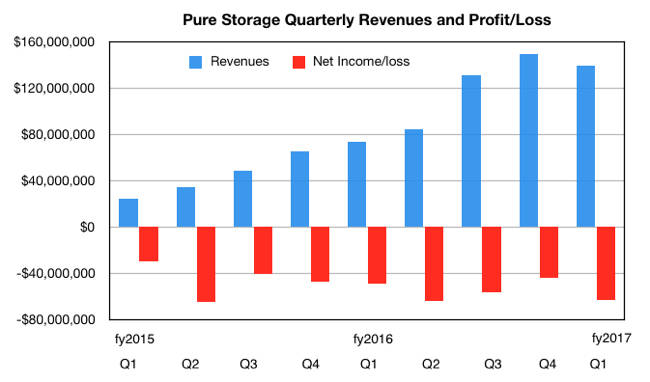 Operating margin improved by approximately 20 percentage points year-over-year. CFO Tim Ritters said: "Pure delivered robust April quarter results, with better-than-expected revenue and improving margin performance year over year. We continue to expect to reach sustained positive cash flow by the second half of calendar year 2017."
That's at least five quarters away, but Pure has $607m in cash and investments, so as long as the cash burn is controlled, Ritters' forecast should be met before the cash runs out.
Some 300 new customers were added in the quarter, taking the total customer count past 1,950.
Edgy earnings call
The earnings call wasn't the analyst love-fest that Pure might have hoped for.
William Blair analyst Jason Ader said Pure delivered "stellar absolute performance across revenue (up 89 per cent), deferred revenue (up 147 per cent) and gross margin (a record 67.3 per cent)." However Ader thought the performance wasn't that good, asking this question in the earnings call: "Did something change in Q1 where you weren't able to deliver the kind of beat that people have become accustomed to?"
Dietzen fired back a strong answer but didn't actually answer Ader's question.
"Jason, we're very happy with the performance we just turned in. At a $600 million revenue run rate, being able to grow that business at 89 per cent, I would say is unprecedented in storage industry history."
Ader responded with, "Is there more seasonality in the business than maybe some people had anticipated?" Ritters confirmed the point: "On seasonality, as we get to that $600 million run rate scale that Scott talked about, there is seasonality. We've seen seasonality in the business for a while. This was expected. It was consistent with our guide. So it's certainly not a surprise for us."
Analyst John Lucia hit the same point as Ader: "Pure has all these growth drivers in place, the rapid shift to all-flash, disruption with incumbent vendors, [and] another thing the cloud coming on. Why did we see product revenue growth decelerate below 80 per cent despite these factors? Is there anything in particular in the market that's affecting growth or is this just a law of large numbers?"
Ritters said, "It's the latter, as you're describing. Once you get to this size, growing a business at 80 per cent for multiple years, that's a challenge. And so that's why you're seeing some of that deceleration."
Analyst Tal Liani said EMC and HP grew their flash array business in triple digits, so Pure's 89 per cent is not that great; and asked; "I'm just trying to understand whether this past quarter you sensed any change in the competitive environment, just because these guys have grown so much?"
Dietzen said there had been no change to the competitive environment and said Pure had maintained its competitive win rates.
Katy Huber asked about the growth rate disparity between Pure and EMC and HP, with Dietzen answering: "We're not conceding fastest growth to anyone in this market. There's no question with a diverse product portfolio, there's more flexibility to move dollars around between buckets. We believe we're growing faster than any other player in this market. They can't all be growing faster than the aggregate Gartner data and the IDC data. So the fact that we're growing materially faster than the analysts say flash is going into the data center, I think is reflective that we're outperforming the competition."
Ittai Kidron asked about this too: "You came just a hair above the high end of the guide and I'd like to think that at least internally, you thought that you can do better than the high end of the guide. So it will be great if you can give us a little bit of color on what do you think did not work perfectly to plan in this quarter? Was there a region, a certain sales force, a certain competitive dynamic, whatever that may be?"
Dietzen wasn't having any of this. "We're supremely happy with the quarter we just turned in and we're on track to hit all of our targets," he said.
Kidron resonded, "Do you think that you're overpricing" and thus could have sold more?
Again Dietzen wasn't having any criticism here. "We're delivering so much value because of our hardware efficiency that customers are getting phenomenally better value with Pure than they can get from the competitors."
We don't understand this point. Either EMC and HPE are not growing their flash business at 100 per cent plus, compared to Pure's 89 per cent or they are. There is a hint here, surely, that Pure is no longer out-growing EMC and HPE flash array revenues.
Looking ahead
Dietzen said the Dell-EMC merger would cause confusion with regard to channel vs direct sales and with product overlap. "The combined entity will have nine distinct all-flash storage offerings." That will make customer choice and sales focus harder than it needs to be.
Regarding the FlashBlade "Big Data Storage" product introduced earlier this year and now in beta test, he said, "We're planning on directed availability that will be for select customers in the third quarter of this year and we're striving to hit general availability before year's end."
Pure said the cloud was a big opportunity for it, and 25 per cent of its business is in selling to SaaS (software as a service) vendors; not to the DIY hyper-scalers though, like Amazon and Facebook.
After the call, Stifel MD Aaron Rakers thought Pure's results were not good enough: "We believe Pure's reported Q1 FY2017 results will be viewed as a disappointment relative to upside expectations."
Next quarter's revenues are expected to be between $153m and $157m, an 83 per cent increase on the year-ago 2016 quarter at the mid-point. ®
Sponsored: Minds Mastering Machines - Call for papers now open