NetApp posts $8m loss as its pivot continues. Feeling comfy, George?
Solidfire buyout hits the books, but underlying revenues dipped
In its fourth fiscal 2016 quarter NetApp revenues were $1.38bn instead of the $1.425bn predicted at the mid-point of its last forecast, and the company made an $8m loss – the second in George Kurian's tenure as CEO.
The revenues were down 10.4 per cent on a year ago and 0.4 per cent from the previous quarter. A year ago NetApp made a $135m profit; just one quarter ago it posted profit of $153m.
Why were NetApp's profits so far down? Perhaps the net $842m hit of the Solidfire buyout landing on the books this quarter had something to do with it.
Full fiscal 2016 revenues were $5.6bn, down nine per cent from FY 2015, with profits of $229m, 59 per cent less than last year's $560mn.
CEO George Kurian talked about advancing a pivot in his prepped remarks: "We continue to advance our pivot to the growth segments of the market while, at the same time, streamlining the business and reducing our cost base. The team remains sharply focused on disciplined execution and is fully committed to return the company to long-term growth."
NetApp recent quarterly revenue and net income history
Earnings call
In the earnings call Kurian mentioned constrained enterprise IT spending, and said NetApp is "making fundamental changes to return the company to revenue growth." The key points are hybrid cloud – the Data Fabric strategy – and "reducing cost and systematically streamlining our operations."
The growth products are called strategic solutions and encompass Clustered DataONTAP, branded E-Series, All-Flash-Arrays including SolidFire, hybrid cloud offerings and OnCommand Insight. They comprised 61 per cent of net revenue in the quarter.
Mature product revenues came from OEM, ONTAP 7-Mode and add-ons, and "for both Q4 and the full-year declined at roughly 40 per cent year-over-year, driven by declines in ONTAP 7-Mode." As the mature stuff falls away and the strategic product sales grow Kurian expects a return to moderate "revenue growth in fiscal '18."
Analyst haus Stifel Nicolaus' MD, Aaron Rakers, said: "All-Flash EF-series and FAS offerings now generated an annualised revenue run rate at ~$700m, up from the $600m and ~$370m run rate exiting the two prior quarters."
EMC's XtremIO annual run-rate exceeded $1bn in calendar 2015 and grew in 2016 so NetApp has some way to go to catch up.
Revenues in the final quarter and previous ones in the fiscal year were affected by price cuts, Kurian saying: "We ran a couple of promos for strategic products, mainly flash and cDOT. Those ran most of the year. We also had some significant discounting across-the-board, which is just what you see in the market today. The promotions are essentially to help our customers offset the cost of the need to migrate to clustered ONTAP. We've seen good results from the promotion. We've also seen progress with our All-Flash-Array momentum … We intend to continue those promotions."
This fiscal year, 2017, will be a year of transition, with NetApp getting streamlined – bloat removal, as some might say – and more efficient.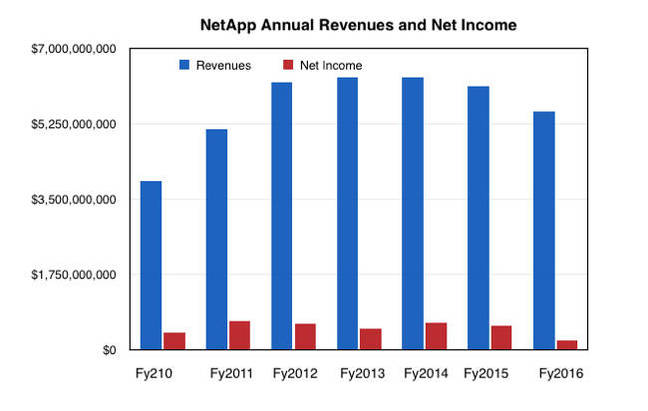 NetApp recent full year revenue and net income history
Product updates
Kurian said a new generation of ONTAP is coming, ONTAP 9, with new levels of simplicity, better storage efficiencies and enterprise data management capabilities. Customers can choose engineered systems, software-defined storage, or cloud versions. OnCommand Insight will enable customers to monitor and manage their storage as an end-to-end service across heterogeneous public and private clouds.
On storage efficiency, Kurian mentioned NetApp will "introduce particular patent-pending storage efficiency techniques that allow us to be more cost-effective than we have been so far."
He said: "Soon we will become the first vendor to give customers the ability to take advantage of 16 terabyte solid-state drives."
Samsung 3D V-NAND SSDs are very popular. We expect all-Flash FAS, E-Series and SolidFire systems to use these drives. Kurian said: "We will have exciting SolidFire innovations to announce in early June."
Late flash market arrival
Kurian offered this thought about NetApp's situation when became CEO: "When I took over as CEO, NetApp was dealing with several internal challenges. We were late to the All-Flash-Array market. We were not prepared to assist our installed base of customers in migrating to clustered ONTAP, and we had limited traction in the hybrid cloud."
He's started fixing these three problems and the cost issues.
CFO Ron Pasek said: "In Q4, we took significant steps forward by reducing our headcount by approximately 11 per cent sequentially."
There's more cost controlling coming, with Pasek talking about: "implementing tighter cost controls over indirect spending, improving supply chain efficiency, portfolio streamlining, operational process redesign, and organisational restructuring and realignment."
Pasek continued: "We are going to be simplifying product offerings which will benefit the entire company. You'll see us aggregating back-office functions to a shared services model. And we will be doing business process redesign, organisation realignment and further the streamlining of our portfolio."
Answering analyst questions, Kurian said he did not see evidence of a shift of storage to the cloud: "The majority of the uncertainty in the spending environment is due to the macro [industry uncertainty] not from a secular shift to the cloud. We did not see any sort of substantial trend between Q3 and Q4 in terms of the cloud."
Hyper-converged
He also answered a question about competition from hyper-converged vendors such as Nutanix and Simplivity, and EMC with Vx-Rail: "We've announced the FlexPod lifecycle automation solution which is a capability that allows us to provide a highly automated deployment model for FlexPod customers that allows you to shrink the time from receiving equipment to serving data to less than an hour. This is competitive with the hyper-converged solutions that are shipping in the market."
"And … with SolidFire we get the extreme ease of deployment, the simple scalability and the ability to offer through the use of solutions like OpenStack, the benefits of hyper-converged technology, meaning rapid time to value and ease of deployment and administration without the compromises that hyper-converged solutions offer."
In other words, NetApp is not going to offer its own hyper-converged (scale-out nodes with integrated compute, networking and storage) product.
Finance and investment research company TBR told us: "TBR believes it is important for NetApp to increase focus on addressing burgeoning demand for hyper-converged platforms – a market that NetApp does not currently participate in, but that TBR's Hyper-converged Platforms Market Landscape 1Q16 indicates will grow at a 50 per cent CAGR from 2015 to 2020, increasingly displacing NAS systems, NetApp's core market."
We'll have to see if automating FlexPod deployment and presenting SolidFire as hyper-converged-like will prevent hyper-converged vendor and product incursion into NetApp's customer base.
In the first fiscal 2017 quarter NetApp expects revenues between $1.2bn and $1.35bn; $1.275bn at the mid-point and a near five per cent fall on the first fiscal 2016 quarter. Revenue-wise, FY 2017 is looking like a transition year, as the company says, and then, in FY 2018, we'll really see if George Kurian has cured the ailments affecting NetApp. ®