India launches hypersonic space shuttle precursor
First 'Reusable Launch Vehicle' test flight goes off without a hitch, three more to come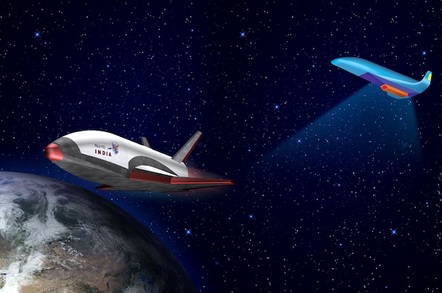 India has successfully launched a scaled-down model of a planned "Reusable Launch Vehicle" (RLV).
Today's launch was dubbed the "hypersonic flight experiment" (HEX) and saw a 6.5m, 1.75 tonne model of a winged spaceplane hoisted aloft atop a modified sounding rocket using the S9 engine India uses as an auxiliary for its PSV satellite launch vehicles.
That rocket climbed to about 70km, then released the RLV. The dummy craft then made a hypersonic descent to earth, splashing down into the Bay of Bengal about ten minutes after launch.
Today's flight will be followed by a "return flight experiment (REX)" in which the RLV will be guided in to land on a runway. Next will come the addition of a scramjet-packing second stage to the launch vehicle, to test orbital insertion of the RLV.
The planned fourth flight (RLV-TD HEX1) will test "hypersonic aero-thermo dynamic characterization of winged re-entry body along with autonomous mission management to land at a specified location and characterization of hot structures are planned to be demonstrated."
India says a full-scale model and commercial operations are still years away, but the nation has clear ambitions to become an even more prominent player in the satellite launch business.
Today, the nation's space agency ISRO is saying nothing more than the HEX "mission accomplished successfully." ®
Sponsored: Minds Mastering Machines - Call for papers now open