Google-backed solar electricity facility sets itself on fire
Archimedes would be proud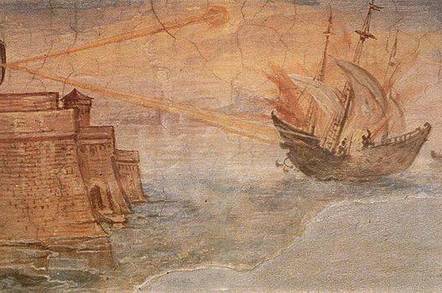 A troubled heliostatic power station is set to hit the anti-renewables meme-factories, after misaligned mirrors set the tower on fire.
The Google-backed, US$2.2 billion Ivanpah Solar Electric Generating System generates power by focussing sunlight on boilers at the top of three 140-metre (439-foot) towers and using the resulting steam to spin up the generators' turbines.
The misalignment instead set fire to electrical cables in Unit 3, scorching and melting steam ducts and water pipes.
While fire-fighters arrived from the San Bernardino County Fire Department and Nevada's Clark County Fire Department, the Associated Press reports that personnel from the power station dealt with the fire before they arrived.
Still, the firefighters made the 91-metre (300-foot) climb to make their inspection and officially declare the fire out, 20 minutes after it began.
The facility has 350,000 mirrors under computer control, and while it's designed to deliver enough power for 140,000 homes, two of its three towers are now out of action (another unit was offline for maintenance).
Earlier this year, there was speculation that the plant could close down entirely.
Technology Review reported in March that California's Public Utilities Commission has given the facility 12 months to increase its production so it can fully deliver on its supply commitments.
At the time, the plant's owner BrightSource claimed the facility had already hit 97 per cent of capacity. ®
Sponsored: Becoming a Pragmatic Security Leader