Half of EU members sidle up to EC: About the data-sharing rules. C'mon. Chill out
Ensure regs don't 'constitute a barrier to development'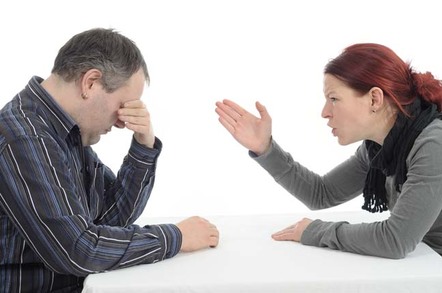 Ministers from half of the European Union's 28 member states have signed a letter asking the EU Commission to drop its "barriers to the free flow of data".
The letter was sent to the EU's digitally focused folk ahead of Wednesday, when the commission will publish the findings of its inquiry into online platforms ("search engines, social media, knowledge and video sharing websites, app stores, etc.") which took place after the publication of the EU's Digital Single Market Strategy last year.
Essentially something of a cry against the EU's data protection legislation, the letter is signed by ministers from Belgium, Bulgaria, Czech Republic, Denmark, Estonia, Finland, Great Britain, Ireland, Latvia, Luxembourg, Lithuania, Poland, Slovenia and Sweden.
It "encouraged the commission to move ambitiously forward in its efforts to remove regulatory and non-regulatory barriers in the Digital Single Market", so that data could be shared more easily between and beyond member states.
At the moment data sharing across the EU is subject to complicated legislation – with another 50-plus articles of legislation due to be implemented as part of the recently-agreed General Data Protection Regulations (GDPR) – at the same time as the continental supremos struggle to deal with market initiatives which have seen data localisation projects pick up interest in Germany and France since the collapse of Safe Harbor, the GDPR's predecessor.
The authors of the letter (PDF) pleaded for the commission, and the Dutch incumbent in the EU's rotating presidency, to take the following into account:
Build a solid foundation for the digital economy.
For the digital economy to flourish businesses and consumers must thrive in a trusted and connected digital environment.
We must provide a coherent and technology neutral data-protection regime without overlapping regulation. We encourage the Commission to deliver an ambitious review of the e-Privacy directive with the aim to repeal all elements that are no longer fit for purpose while ensuring the right balance between digital products and services and the fundamental rights of data subjects across the regulatory framework.
Ubiquitous access to high-speed broadband and innovative communication services is an integral part of the telecommunications review. The regulatory framework should be adapted to better spur investments in high-speed broadband and promote competitive prices and innovative services by removing all unjustified requirements.
A regular bugbear for many governments, the EU's e-Privacy directive caused some distress in January when a legal opinion determined that it meant the ongoing snooping activities of many member states' governments were not strictly lawful.
To be "clear … as a result of the invalidity of the Data Retention Directive, Article 15(1) of the e-Privacy Directive is … applicable to the national measures dealing with data retention in the electronic communications sector," the Legal Services unit said, according to the document leaked by civil liberties group Access (PDF).
It is such regulatory imposition that the ministers wrote to decry, but the timing of the letter will likely be questioned too, coming amidst the continuing struggle to institute an adequate replacement for the Safe Harbor arrangement, which facilitated transatlantic data transfers.
The collapse of Safe Harbor also caused trouble for many of the US-based multinations which had otherwise been able to promise they were following the European legal regime with Europeans' data when held in the US. Of course, the Snowden disclosures proved this was not the case, but the disruption this has caused for left- and right-pondian tech companies has provoked no little attention:
Strengthen the framework for digital innovation and entrepreneurship. It is vital for European competitiveness to take a positive approach to new advancements in digital technologies and business models.
Online platforms bring new opportunities for consumers and businesses and content providers alike. We should welcome their contribution to innovation and refrain from one-size-fits-all regulation which would reduce competition and hamper innovation. In the first instance we should focus on enforcing existing rules, such as consumer, competition, intellectual property and data protection rules, and a balanced approach to intermediaries, to ensure that all businesses sectors, industries, consumers and society as a whole are able to share the benefits of a vibrant, creative and innovative platform economy. Alternatives to regulation should be investigated rather than adding new burdensome regulation of businesses. Any regulatory proposals would have to be considered carefully.
Europe can benefit significantly from new data-driven technologies if the right future-proof regulatory framework is established. It should be ensured that data can move freely across borders, both within and outside the EU, by removing all unjustified barriers to the free flow of data and that regulation does not constitute a barrier to development and adoption of innovative data-driven technologies. Furthermore addressing digital skills is important to achieve a functioning DSM.
Move the single market into the digital age. As both consumers and businesses can benefit significantly from cross-border e-commerce within Europe we need to step up efforts to make it easier to trade online across the internal market and not impose new burdens on businesses.
In the long run we strive to remove the most significant barriers to cross border e-commerce through common rules on consumer protection at a high level with aligned consumer rights online and offline. Action on e-government including EU-level information exchange and cross-border services can significantly reduce friction and administrative burdens.
Meanwhile efforts should be made to provide consumers and businesses with regulatory certainty and easy access to information about existing rules. The Single Digital Gateway should contribute to this through a user-friendly architecture and an improvement of the underlying instruments and online procedures at Member State level. In addition cooperation between national consumer protection authorities should be strengthened.
We await the Commission's response. ®
Sponsored: Minds Mastering Machines - Call for papers now open