Forget high-powered PCs, mobile is the future of VR, says Google
But you'll need a new phone to do it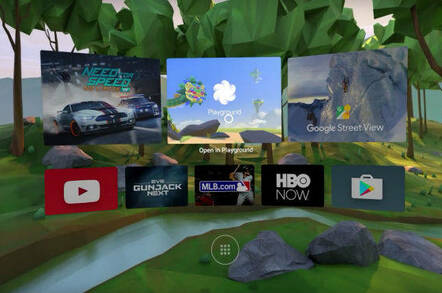 Google I/O 2016 Google has been outlining plans for kickstarting its virtual reality portfolio this year, including new hardware, software tools, and developer support.
Unlike Facebook's Oculus platform, which requires a high-end PC to crunch the code, Google thinks that you can get a perfectly decent VR experience just using a smartphone, like Samsung's Gear VR setup. As a result, Android N is going to be built with Google's Daydream VR platform in mind.
If you want to slip into Google's virtual world, it's going to cost you, however. Its reference designs require the highest-powered processors, lots of extra motion sensors for tracking head movements, and a low-latency screen capable of displaying 60fps graphics with no ghosting.
Clay Bavor, Google's VP of VR, said the Chocolate Factory was going to be building its own Android N smartphones to use for virtual reality, but other manufacturers have also promised hardware, he said, including Chinese firm Xiaomi. Don't expect the price of such high-end kit to be cheap.
Other unnamed vendors are also building the headset designed to fit the phones, Bavor promised, and Google will also be making its own version, along with a hand-held control unit. Google's reference design shows a small oval unit, with a clickable touchpad on top, an app button that can be programmed by developers, and a Home button Google is retaining the use of for its own code.
The hardware is only one part of the system, and Android N has a lot of code added for VR. This includes a Sustained Performance Mode, which jacks up the power to cope with handling VR, and native algorithms for tracking head motion in conjunction with a phone's sensors.
To help developers write for the platform, Google has set up a Daydream Labs project to put up sample code, and is currently churning out two apps a week and making them available to coders. Expect this cadence to rise as the system moves towards launch this Autumn.
Google's Project Tango system maps out rooms and objects in 3D. Tango was part of the Daydream team, Bavor said, and the two shared offices on the Google campus.
As for integration, Bavor said that users of the Unreal engine can get coding for Daydream right away, while Unity Technology developers will get native integration this summer, although there's a plugin available now so coders can get to work.
"Google and Unity are deeply aligned on how we see VR," said Unity CEO John Riccitiello at the presentation. "We're here, we're ready, so get on board."
Riccitiello pointed out that there are twice the number of mobile phones on the planet as PCs, so making mobile the primary device for getting online was logical. He neglected to point out that very few can handle the demands of VR, but over time that will change as hardware improves.
In terms of content, Google has plans in this area with its Jump camera, unveiled at I/O last year. This ring of 16 GoPro cameras records VR content and Chinese manufacturer Yii Tech will do a commercial version later this year. IMAX is also building a high-end version for Hollywood.
YouTube is going to be redesigned to handle VR content, Bavor said, and Google will be seeding its own media and encouraging others to do the same. The Play Store will also have a rating for "Motion" on apps capable of VR.
It all sounds very nice, and Google has devoted 17 sessions of this year's I/O conference to classes on writing code and managing its VR systems. But whether or not customers will be tempted enough to upgrade their hardware is another issue. ®
Sponsored: Beyond the Data Frontier