5% of drivers want Nigel Farage to be their in-car robo butler
But you'll probably get Stephen Fry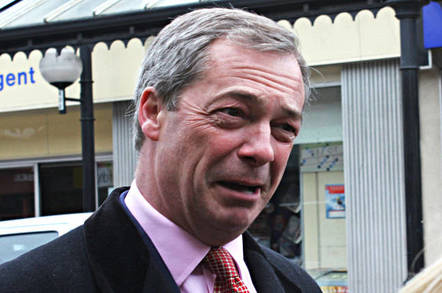 Five per cent of Britons would choose the voice of Nigel Farage as their in-car virtual assistant. And 3 per cent want to be advised of traffic jams ahead by the Chuckle Brothers.
The poll of over 2,000 Britons for voice company Nuance suggests a wide range of celebrity choices, although perhaps thankfully, more would choose a generic robot voice than any single sleb.
Britain's leading voiceover artist Stephen Fry is twice as popular as sweaty pugilist Jeremy Clarkson, even though the latter writes his own material. Perhaps not an option when it comes to virtual car assistants.
Fry's rich catalogue of ad voiceovers includes some unforgettable performances for Anchor Butter, Tesco, Dairylea, Kenco, Coca Cola, Trebor Mints and DAB radio.
And he's not ashamed of it.
"I am a voice-over artist, I have read every one of the Harry Potter novels - and I'm proud to have done so, and I'm proud to have done so for advertisements," he told his fans in an angry audioblog rebuking this very publication, three years ago.
Donald Trump ties with Sir Alex Ferguson with 2 per cent of choices.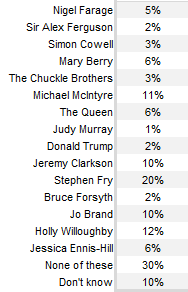 Fry became a TomTom SatNav voice in 2011. Darth Vader, and Sesame Street's Bert & Ernie have been TomTom choices, but sadly, were not an option on Nuance's poll. ®