HSBC swinging axe on UK IT department, 840 heads to roll
Come on have a heart, the bank only made $4.3bn in Q1. The answer? Offshoring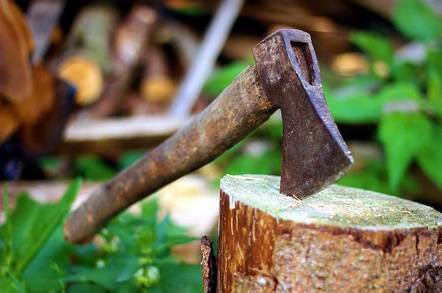 HSBC is to wipe out more than 800 of its UK-based techies in a move Unite the union has condemned as a 'reckless' drive to offshore jobs.
The redundancies are part a wider cost cutting drive that will see the bank slash 8,000 positions in Blighty and a total of 50,000 worldwide by the end of next year, with the aim of saving $5bn annually.
John Hackett, chief operating officer of HSBC UK, said it is "targeting significant cost reductions".
"As part of a global relocation exercise, around 840 non-customer-facing IT roles will transfer from the UK to other sites around the world by the end of March 2017.
"The UK will continue to play an important role in HSBC's global IT infrastructure, employing several thousand IT professionals."
HSBC clearly needs to tighten its belt, the company made just, er, $4.3 billion in the first quarter of 2017, compared to $5.26 billion a year earlier.
Unite claimed the bank will export the IT roles to Poland, India and China. It said offshoring was dreamed up by management back in the June 2015.
"HSBC's decision to axe so many IT jobs is as ruthless as it is reckless," said Dominic Hook, Unite nationsal officer for finance.
"For almost a year staff have been left in the dark about their futures, only to be told that before being shown the door they're expected to train someone in India or China who will do their job for less money," he added.
The lion's share of HSBC's UK techies will be cut from Sheffield, with 595 to go in the region. Other impacted sites include IT operations in Birmingham, Leeds and London.
The bank expects the majority of impacted staff to leave the bank by the end of the year. "During this time many will be expected to pass on their knowledge to their successors based in 'low cost' countries in a 'cynical race to the bottom'," said Hook.
Unite claimed it is "short-sighted" to offshore IT jobs. "As IT glitches across the banks continue to prove, it is ultimately the customers who will suffer the consequences. ®