Comms providers call on Ofcom to get tough on Openreach
Fibre customers claim it will always favour BT plc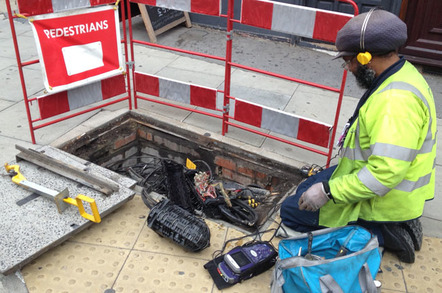 Communications providers Sky, TalkTalk and Vodafone have called on Ofcom to dramatically reform BT's Openreach in a "10 point plan" published today.
The action plan published by membership body the Federation of Communication Services (FCS) follows a decision by Ofcom not to recommend a structural separation of Openreach earlier this year. That is despite the regulator finding that Openreach still has an incentive to make decisions in the interests of BT, rather than BT's competitors.
Instead the regulator opted for a form of enhanced operational separation.
The the FCS proposals come as the government is poised to announce a "digital economy" bill this week via the Queen's speech, which is rumoured will give Ofcom more power of digital infrastructure.
Many of its members use Openreach's wholesale and retail services.
The proposals include establishing Openreach as a legally separate company, creating an independent Openreach board, allowing it to make independent investment decisions and ensuring that Openreach consults with all of its customers about its future strategy.
Chris Pateman, chief exec of the FCS, said: "Frankly, FCS was disappointed Ofcom's review of digital communications stopped short of recommending the complete structural separation of Openreach from the BT Group.
"Ofcom believe improvements can be delivered without the hassle and delays of a full separation: our 10 point plan represents the industry's proposals on how this can be accomplished."
Pateman said his members are most concerned that Openreach has not treated his members as equal partners.
He said: "It is very important that there is clarity of decisions made and that they aren designed to act in the interests as Openreach as a separate entity rather than in the interest of BT plc."
He added: "We are hoping the plan will form the basis for discussion. This is what we need and what a non-structurally separated Openreach needs to look like. We've got to have something that will formalise debate. If there is something in there that is wrong or not possible, we need BT to tell us. But if we don't have something on the table, we'll end up with a series of woolly principles."
Other points on the plan included: Creating an independent body to oversee the transition to a reformed Openreach; Giving Openreach full control over its assets; Ensuring Openreach has a separate corporate identity and brand; and ensuring that Openreach does not inhibit investment by independent network operators.
Virgin was notably absent as a signatory from the list. The provider has previously said it was against a structural separation of BT and Openreach, as it was concerned that such a move would set a dangerous precedent for infrastructure investors.
Earlier this month BT pledged to invest £6bn in mobile and broadband by 2020. However, critics have pointed out that much of that investment was already planned, with the announcement designed to placate Ofcom as it wrangles with the regulator to avoid a forced "enhanced" operational separation of Openreach by the EU. ®
Sponsored: Becoming a Pragmatic Security Leader