The Quantum of Solace: You've still got tape. Don't forget that
Weakening enterprise storage hits profits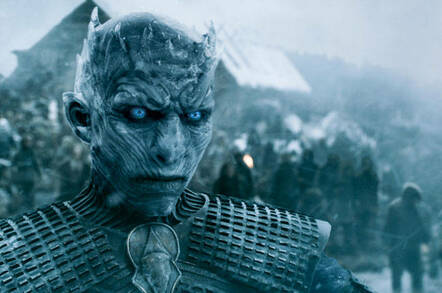 Quantum's latest results show that scale-out storage is still not growing fast enough to outweigh declining tape storage revenues – and Quantum is still a shrinking business.
Let's do the annual numbers to show the big picture first.
Revenues for the full fiscal 2016 year, ended 31 March, were $475.9m, down 14 per cent year-on-year. It had a net loss of $74.7m, compared to the year-ago profit of $16.8m.
The full year loss comes from losses in each quarter with the latest quarter contributing a humdinger. Fourth quarter revenues were $120m, down 18.8 per cent on the year-ago's $147.8m. Quantum talked of a challenging environment.
The firm suffered losses of $52.4m in Q4 FY 2016, much worse than the year-ago $12.9m profit. That difference came from a non-cash goodwill impairment charge of $55.6m. With the net loss being $52.4m, then there would have been a $3.2m profit without the charge.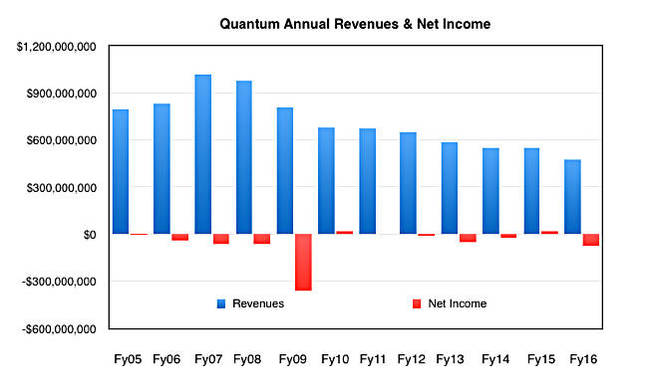 CEO and president Jon Gacek's summary was this: "In fiscal 2016 we made progress in key areas despite the weakness in the enterprise storage market making this a difficult year for the storage industry, overall."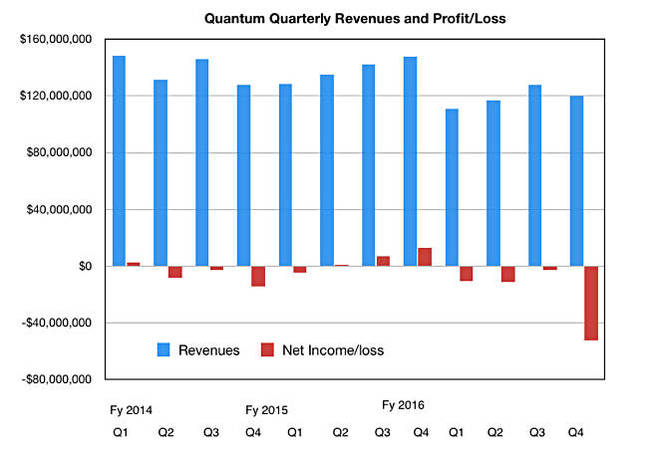 The product sector revenue splits for the quarter and full year were these:
Scale-out storage: $33.1m and $126.5m.
Disk backup systems and related service: $18.1m and $73.2m.
Branded tape automation and related service: $34.6m and $146.3m.
OEM tape automation and related service: $10.1m and $43.0m.
Devices and media: $13.1m and $45.8m.
Royalty: $11.0m and $41.2m.
If we look at the quarterly sector splits over fiscal 2016, summing up the branded and OEM tape automation into one number, we see a pretty stable picture: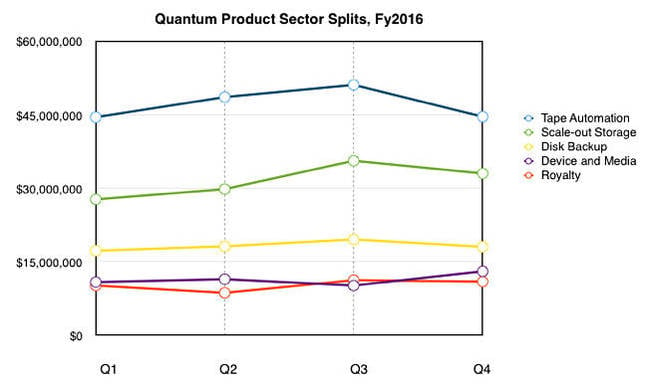 If we add device, media and royalty revenues to the tape automation number we get $68.8m for the quarter, more than the combined scale-out and disk backup figure of $51.2m. Essentially Quantum is still a tape automation company.
Scale-out storage revenues, although growing with a four per cent rise year-on-year this quarter, which was the 19th consecutive quarter of growth, are not overtaking base tape automation revenues. Deduping backup product revenues (DXi line) are flat, at around $16m – $20m.
Earnings call colour
In the earnings call Gacek revealed scale-out storage revenues grew 44 per cent year-on-year in the Americas, but declined in the EMEA and APAC. He said: "We are confident, we can achieve higher overall growth in the current quarter and the rest of fiscal 2017."
The expansion of scale-out storage product into the video surveillance market was promising: "This included a major push into video surveillance market in fiscal 2016, where we increased revenue more than 600 per cent."
He also said disk data protection customers were increasingly buying scale-out storage, and a $100,000 backup deal turns into a $600,000 scale-out deal.
CFO Fuad Ahmad said Quantum had "non-GAAP gross margin of 45.9 per cent and our non-GAAP operating margin of 7.2 per cent. This was our highest gross margin and operating margin in five quarters, which speaks to our commitment to profitability and efficiency that resulted from these reductions we made to our cost structure over the last six months. As a result, we returned to generating cash from operations. With all that said, we're clearly impacted by the challenging enterprise storage environment most notably in data protection."
The cost structure changes included head count reductions in research and development. He said the impairment charge was "attributable to a drop in our stock price during the quarter and that reduces our goodwill balance to zero."
The share price peaked at $0.65 in the quarter; it's now $0.43.
He said Quantum's strategy was to increase shareholder value by growing scale-out storage revenue and overall profitability. Gacek said scale-out storage would be focussed on media and entertainment, video surveillance, unstructured data archives and technical workflows. Quantum will also look to grow sales to the cloud and cloud service providers.
There is a significant debt payment Quantum has to make in 18 months time, and Ahmed talked about solving the problem by generating cash from operations.
Quantum expects revenues for the next quarter to be between $111m and $115m, $113m at the mid-point and more than the year-ago quarter's $110.9m: a promising start to the new fiscal year. He is looking for full fiscal 2017 revenues of at least $500m, more than fiscal 2016's $475.9m, which would make it Quantum's first fiscal growth year since 2008.
Hey, way to go Jon. ®
Sponsored: Practical tips for Office 365 tenant-to-tenant migration