Lending Club CEO booted out for dodgy deals
Another unicorn loses its horn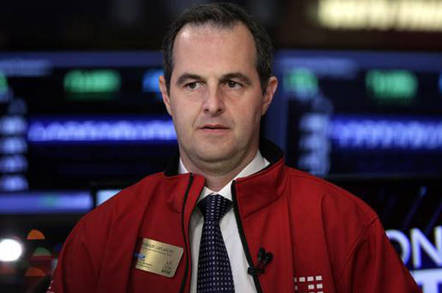 The CEO of online money merchant Lending Club, Renaud Laplanche, has been fired, raising more questions over tech startups and how far from business norms - and the law - they have strayed in an effort to make money.
Laplanche resigned this week after an internal investigation revealed the company - a lauded startup "unicorn" valued at over $1bn - had sold $22m in loans to an investor that did not fit specific criteria he had set.
That raised immediately questions over sales practices at the company as well as internal compliance efforts. News of the investigation and Laplanche's resignation caused the company's share price to drop 35 per cent.
The news is startlingly similar to another recent resignation - that of Zenefits CEO Parker Conrad. Conrad was fired when an internal investigation revealed the company - which sells health insurance - was regularly ignoring state regulations to get to market. Conrad, it is claimed, wrote a piece of software specifically designed to cheat California regulations over who is allowed sell health insurance.
In both cases, the two companies have been held up as example of the Silicon Valley model of disruption going into established markets and shaking them up. Increasingly it looks like that the effort to build revenue was achieved by simply flouting laws and regulations put in place to protect consumers.
In Lending Club's case, the firm is the largest of a new breed of "marketplace lenders" who provide loans to small businesses and consumers and then sell them on to investors. The idea is to undercut expensive lines of credit such as credit cards, but increasingly it looks as though the drive to boost growth and turn a profit has led to unethical cultures and decisions at poorly regulated startups.
The regulators are coming!
Just last month, chair of the US Securities and Exchange Commission (SEC), Mary Jo White, warned Silicon Valley that her organization was looking into valuations of unicorns to ensure that investors were not being misled and she singled out "fintech" as an area of concern.
"Innovations in digital finance, many of which originated in Silicon Valley, have the potential to transform how our markets operate in virtually every respect," she noted.
She warned specifically about marketplace lending that "the SEC evaluates these platforms through the lens of the federal securities laws – that is, are they offering securities and, if they are, are the offerings registered or made using an exemption. We are also concerned about the adequacy of the information received by investors in registered offerings."
The lopping off of unicorn horns is something that the tech sector is becoming increasingly concerned about. New investment in startups that have burned through millions of dollars in VC funding without showing any profits and, in some cases, even viable revenue streams has slowed new funding flows to a trickle.
Increasingly startups are going back to a popular pre-boom philosophy of bootstrapping - effectively running their companies at the lowest possible cost until they start to make money.
That may work for some, but the storm clouds are gathering over SoMA and Silicon Valley as even unicorns have to start dealing with business realities: regulation and the need to make money. ®