Sayonara, Brits! The Irish tech sector could benefit from Brexit
Pro Brexit AND pro EU - is that even possible?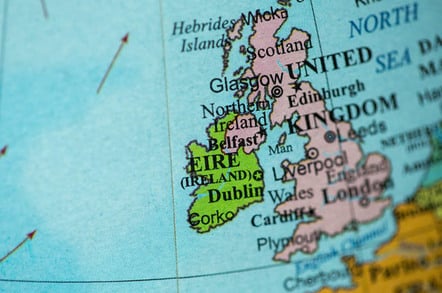 There appears to be a broad consensus that a Brexit would be bad for Ireland: that Ireland's economy would be seriously affected if the UK decides to leave the EU on June 23.
A report by Irish business lobby group Ibec has warned of "the far-reaching impact on Ireland if our nearest neighbour, key trading partner and close ally in Europe votes to leave the EU".
A Brexit would lead to investment and currency uncertainty, disrupt trade, undermine the all-island economy and affect energy and climate change strategies, Ibec said.
The group argued that trade flows between Ireland and the UK (the country's third-largest trading partner after the US and the rest of the EU) could fall by 20 per cent and SMEs "would be more severely impacted than larger multinationals which would be better placed to cope."
Linda Barry, assistant director of the Small Firms Association (SFA), suggested the survival of small businesses in Ireland dependent on a UK supplier, investor or market would hang in the balance.
Better than expected growth predictions for Ireland this year could be adversely affected by a Brexit, according to financial services firm Davy Stockbrokers. Economist Conall Mac Coille said uncertainty could cause companies to put off investment plans. Exporters could also be faced with a sharp sterling depreciation, close to parity with the euro.
An Economic and Social Research Institute paper last year concluded Ireland's interests will be "best served by the UK remaining within the EU" while Barclays Trade Forecast has predicted UK exports into Ireland would increase by €26bn over the next 10 years, but only if the UK stayed in the EU.
But does Brexit really have to be bad for Ireland?
What about the effect on foreign direct investment (FDI), for example, where Ireland has been very successful in attracting non-EU countries to set up base in the country? Ireland is home to a massive concentration of major US tech firms – Apple, Amazon, Facebook, Intel, Cisco and Dell among them.
Respected economist David McWilliams, one of the very few to predict the spectacular economic collapse in Ireland in 2007, has suggested Brexit could be beneficial to Ireland.
He's also tweeted: "If #Brexit is really as calamitous of FDI in UK as Remain says – we'd be winners. Shouldn't self interest imply Ireland for Brexit?" He then added: "In fact maybe re #Brexit our self interested position should be pro #Brexit pro-EU?? Two apparently different things can be true!"
Ireland has four major attractions for FDI companies: low corporation tax; a high percentage of young, educated people; its English-speaking citizens; and its membership of the EU. It's true the UK has also been very successful at attracting FDI companies, but while it might be able to set its own corporation tax after Brexit (and it would still be English-speaking) it wouldn't be part of the EU club.
Observers appear dismissive of the effects of Brexit on FDI and the potential benefits that could accrue to Ireland as the only remaining English-speaking member of the EU, but it's bound to be a factor for a number of companies seeking to establish a base in Europe. For instance, in the short term, are companies going to wait to set up in Europe for at least two years while the UK resolves its trading relationship with the EU if they can come to Ireland instead? Mac Coille's argument about companies putting off investment plans, for example, might not apply if Brexit prompts them to switch to Ireland.
Similarly, in terms of free movement, if Brexit occurs, non-UK nationals will face restrictions in movement that won't apply in Ireland as a member of the EU. Opening a European headquarters in Ireland will provide companies with much greater freedom of movement for employees within the EU than would be the case if they made their base in the UK post-Brexit.
Irish commentators appear to have an over-developed sense of anxiety when it comes to discussing the country's prospects in a post-Brexit world. There's a built-in sense of pessimism or powerlessness that runs through the body politic as was evidenced when Ireland meekly followed the ECB's orders during the bank bailout to pay off all bondholders in full when many others were saying it would be perfectly justified in burning most of them.
Similarly, views of a post-Brexit EU concentrate on the negatives for Ireland but the gloomy forecasts are not pre-destined to occur. At a recent debate in London, Brexit supporter Better Capital chairman and founder Jon Moulton told the Irish Independent Ireland should be able to strike a deal with the UK on trade. "I don't think it's impossible to imagine that there would be a special deal between Ireland and the UK," he said. "I wouldn't be concerned about it, it will happen unless it turns incredibly acrimonious, which will be foolish of all parties."
The conventional wisdom is that Ireland will fare worst of all EU countries in the event of Brexit because of its close economic and trading ties with the UK, but it doesn't have to be that way.
For example, while the UK is still a significant market for Ireland, Irish exports to the UK, as a percentage, are far below what they were when both countries joined what was then the EEC. As the ERSI report states: "The share of Irish exports destined for the UK reached 56.3 per cent in 1974 but by 2014 the proportion of exports destined for the UK was just over 15 per cent."
In other words, Ireland has developed a broader trading base since it joined the EEC, partly through its success in attracting multinationals to the country that trade globally.
In any case, it's precisely because the UK and Ireland maintain close economic and trading ties that are unlikely to be severed in the event of Brexit that it's possible to envisage a future where, as McWilliams suggests, Ireland could enjoy the best of both worlds.
All this, of course, presupposes the Irish government is in a position to develop a strategy for a post-Brexit world. The country has only just reached the point of forming a minority government, more than 60 days after the election, and the outgoing government admitted at the end of April that it could not "fully develop" contingency plans because the terms of any UK departure were unknown.
If Brexit does occur, the newly formed minority government will have only a short space of time to produce a strategy that will garner enough support from the other parties to be viable. Politicians in Dublin can console themselves that it's still preferable to waking up on the other side of the Irish Sea on morning of June 24 and wondering "where to now?" ®
Sponsored: Minds Mastering Machines - Call for papers now open