VxRackery dominates EMC World day 2
VxRack 1000 gets neutrino nodes, DSSD option and has hybrid cloud dev platfiorm built on it.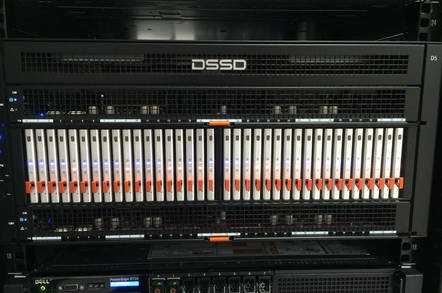 EMC World's second day saw hyper-converged rackery put front and centre, with a stronger DSSD offering, Neutrino* nodes coming to the VxRack 1000 as well as a DSSD variant, and a hybrid cloud VXrack offering.
We'll check out the Neutrino rack stuff first.
The VCE VxRack 1000 is a hyper-converged, servers+storage+networking+management, rack-level system for scale-out workloads in data centers. There are several variants with, VxRack Flex using ScaleIO to provide virtual SAN storage. The coming VxRack SDDC (software-defined data center) uses VSAN for virtual SAN storage and is set to be paired with VxRail appliances.
A VxRack DSSD system is described below.
VxRack Neutrino, more formally and clunkily the VxRack System with Neutrino Nodes, is pitched at cloud-native applications. These are applications or micro-servces, running in containers on a Linux server, which can be deployed on different public or private cloud systems.
The basic idea here is to deliver a pre-packaged OpenStack system that preserves anti-lock-in OpenStack benefits while providing the warm and secure comfort-blanket that comes with a single vendor being responsible for pieces that might otherwise be DIY assembled and separately managed.
There can be up to 108 nodes in a VxRack Neutrino system. It's built from P and I Bricks.
P Bricks are mini, all-flash, grouped 4-node, hyper-converged systems, with each component type featuring:
P412 - 2 x E5-2620 v3 CPUs, 128GB RAM, 4 x 400GB SSD
P812 - 2 x E5-2620 v3 CPUs, 128GB RAM, 4 x 800GB SSD
P416 - 2 x E5-2640 v3 CPUs, 256GB RAM, 4 x 400GB SSD
P816 - 2 x E5-2640 v3 CPUs, 256GB RAM, 4 x 800GB SSD
P420 - 2 x E5-2660 v3 CPUs, 512GB RAM, 4 x 400GB SSD
P820 - 2 x E5-2660 v3 CPUs, 512GB RAM, 4 x 800GB SSD
Each P Brick has 2 x 10GbitE and 2 x 1GbitE ports and a 12Gbit/s SAS controller.
An I Brick is a single hybrid flash+disk node and there are three variants:
I1812 - 2 x E5-2620 v3 CPUs, 128GB RAM, 1 x 400GB SSD, 1 x 800GB SSD, 22 x 1.8TB HDD
I1816 - 2 x E5-2640 v3 CPUs, 256GB RAM, 1 x 400GB SSD, 1 x 800GB SSD, 22 x 1.8TB HDD
I1820 - 2 x E5-2660 v3 CPUs, 512GB RAM, 1 x 400GB SSD, 1 x 800GB SSD, 22 x 1.8TB HDD
The per-node Ethernet ports and 12Gbit/s SAS controllers are the same as for a P Brick node.
Each VxRack Neutrino can have a maximum of 4 racks (1 + 3 expansion racks), 45 bricks and 108 nodes (made up from P and I bricks.)
EMC says VxRack Neutrino serves as one of the underlying IaaS options for the Native Hybrid Cloud (NHC) platform, also announced at EMC World.
VxRack Neutrino will support VMware's Photon "micro-visor" environment in the future, and Apache Hadoop.
DSSD
The newly-launched D5 all-flash, shared DAS array has been updated. There is a dual D5 validated product for databases and data warehouses plus a VxRack System with DSSD.
The dual D5 comes in a single rack and EMC brags it "delivers 2X the IOPS, bandwidth and capacity; one-third the latency and a lower TCO than the fastest solution for databases on the market today." That'll be an Oracle box we guess**, and it involves striping the two D5s together.
With the dual D5 set-up, a server using the DSSD block driver will be able to connect simultaneously to two independent D5 arrays.
VxRack DSSD can be deployed as a standalone converged infrastructure or as an extension to an existing VCE system.
Native Hybrid Cloud
EMC's Native Hybrid Cloud (NHC) is described as a fully integrated, engineered and turnkey platform for cloud-native application development and deployment. It is built on a VxRack 1000 base and delivers Infrastructure-as-a-Service (IaaDS) using Pivotal's Cloud Foundry product.
Apps (cloud-native apps) developed using Cloud Foundry can run on any public or private cloud, EMC claims.
This is a developers' system and it can be configured with FLEX (vSphere) or Neutrino (OpenStack) nodes, and Photon ones in the future. There is an optional NHC add-on toolkit for big data analytics.
In the public cloud arena NHC supports EMC's Virtustream Enterprise Cloud, VMware's vCloud Air, Amazon Web Services (AWS), and Microsoft Azure.
All-in-all EMC is ploughing a lot of effort into its VxRacket, and hoping it can win lots of enterprise business from HP and IBM, plus Oracle and HDS. It's riding the container wave (cloud-native apps and DevOps) and supplying hyper-converged systems positioned under the VCE vBlocks. AS far as EMC is concerned, for enterprise IT, single SKUs rule and provide a wide-open doorway into its enterprise system-level competitors' customer bases.
Availability and more info
Check out a VxRack Neutrino datasheet here. VxRack System with Neutrino Nodes support for OpenStack is orderable and available in Q3 2016. VxRack System with Neutrino Nodes support for Photon Platform and Hadoop Apache will be available next year. VxRack System 1000 configurations start at $300,000.
DSSD's support for dual D5 systems with high performance databases and VxRack System with DSSD will be available in the second half of 2016. We couldn't locate a Dual D5 datasheet or a VxRack DSSD data sheet. There is a D5 data sheet here.
Get an NHC overview here. EMC Native Hybrid Cloud with VxRack System with Neutrino Nodes and FLEX Nodes will be available starting in Q3, 2016. ®
* Wikipedia tells is a neutrino is a candidate for dark matter, the stuff that makes up a supposed 27 per cent if the universe and is invisible to electro-magnetic radiation. A neutrino is a lepton, an elementary particle with half-integer spin, that interacts only via the weak subatomic force and gravity.
** EMC isn't saying.