FAA rules out fast-tracking drone regulations
No Jeff, Amazon won't get its own drone airspace just yet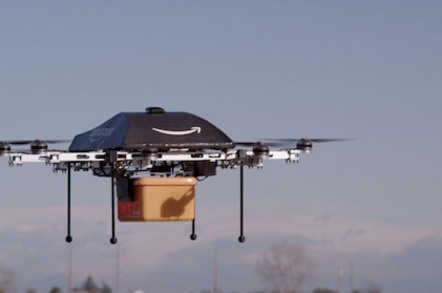 America's Federal Aviation Administration has ruled out changing low-altitude airspace rules for drones at least until 2019.
Organisations like Amazon, which is dead-set convinced it can handle the economics of drone deliveries if only regulators would do their bidding. Last year, Bezos' bros asked the FAA to segregate airspace under 500 feet (150 metres) for drones to use.
Aviation outlet AIN Online says the FAA's Air Traffic Organisation manager Randy Willis told the Xponential 2016 conference that there's a disconnect between the pace of change in UASs (unmanned aircraft systems) and traditional aircraft, and that's making it hard to conduct a rule-making process that suits both markets.
Since other aircraft sharing the airspace are carrying people, the FAA is taking the rule-making slowly.
One thing the authority is waiting for is the outcome of a joint project with NASA. The UTM – UAS Traffic Management – project launched last year, is developing technologies to let drones and civil aviation share the airspace.
NASA's project page explains that UTM should be able to operate without human operators monitoring all vehicles. The agency is due to deliver the results of its research in 2019, in the form of airspace integration requirements the FAA can test.
With that kind of delay in the offing, it's no surprise that the drone biz has decided it needs a dedicated lobby to push things along.
To that end, CNN, Cisco (whose chairman John Chambers addressed the Xponential audience this week) and drone outfits Data Wing and Measure have joined up with the Commercial Drone Alliance to represent commercial users' interests. The full list of founding companies is here. ®
Sponsored: Detecting cyber attacks as a small to medium business