EU set to bin €500 note
High-denomination paper wedge too handy for crims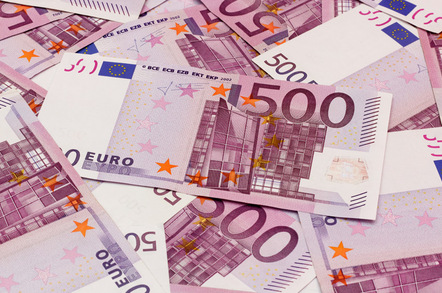 The European Central Bank (ECB) will likely agree today to stop production of the meaty €500 note, which has long been considered a handy tool for criminals wishing to do illicit transactions with cash wedges of manageable dimensions.
According to the Wall Street Journal, the ECB's Governing Council will decide not to produce a new €500 bill as part of the "Euro 2 series" of notes, which has already seen revamped €5, €10 and €20 paper currency replacing their original 2002 counterparts.
However, existing €500 notes will probably remain in circulation as legal tender for at least several years, until all of the Euro 2 series is issued, ending with the €200. "Even after that, people with €500 notes would be able to redeem them at national central bank branches within the eurozone," the WSJ notes.
An unnamed Eurozone official said questions still remain, including "whether to require individuals to disclose how they came into possession of €500 notes if they exchange them above a certain threshold in the future at a central bank office".
While the ECB move will find favour with law enforcement operatives such as Europol head honcho Rob Wainwright, who earlier this year expressed doubts whether Europe "should continue to produce and circulate these notes that make it easier for criminals and terrorists to hide their business, and to fund illegal activities", some in Germany are not happy.
Apparently, Germans view the withdrawal as the thin end of the wedge "in a general push to eliminate paper cash". ®
Euronotenote
A few years back, I thought it'd be a bit of a wheeze to buy a house in cash in the form of an exceedingly pleasing brick of €500 notes. Sadly, when I rolled up at the notary's office - where such deals are done here in sunny Spain - and triumphantly slapped the wedge on his desk, he packed me off to my bank to hand back the readies and do a proper and legal bank transfer.
Sponsored: Becoming a Pragmatic Security Leader