Nvidia, Samsung pump brakes in car-crash GPU patent rip-off race
After swerving through the courts with lawsuits, tech giants call last-minute truce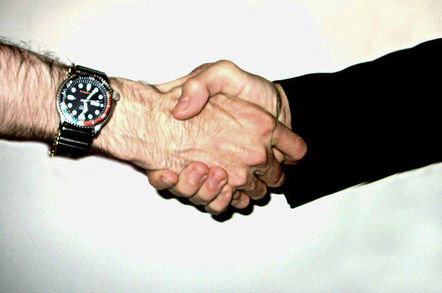 Samsung and Nvidia say they have agreed to a settlement that will end all patent litigation between the pair.
Just hours before the US International Trade Commission (ITC) was set to rule on the duo's chip design infringement squabbles, the two companies have suddenly agreed to a deal that will dismiss their complaints before the ITC as well as other infringement lawsuits.
"The agreement will lead to the immediate dismissal of all pending IP litigation in US district courts, the US International Trade Commission and the US Patent Office between the companies," a joint statement from Samsung and Nvidia reads.
"The settlement includes the licensing of a small number of patents by each company to the other, but no broad cross-licensing of patents or other compensation."
The two electronics giants have long been engaged in a public battle over allegations of patent infringement as each side accused the other of ripping off their hardware designs.
The claims, which included both Samsung's Korean and American operations and also named Qualcomm as a defendant in some cases, covered patents for various chip designs and graphics applications, and included products such as the Nvidia Tegra tablets.
The various infringement claims and counter-claims between the two sides had been heard by multiple US courts, including the ITC. The court had been scheduled to issue a ruling later today on one of Samsung's infringement suits against Nvidia.
A settlement deal has long been seen as the most logical outcome for the two companies, particularly as the legal battles dragged on and many of the patents in question were no longer in use.
While the two sides are downplaying the level of cooperation that they will have going forward, the fact that they were able to finally agree to a deal is good news for both sides and should bode well for Nvidia and Samsung going forward. Shares in both companies were trading up slightly on Monday following the announcement. ®