Legal fight against USA Today's news app info-flogging OK'd by court
Judges say mobile software can't sell info like websites do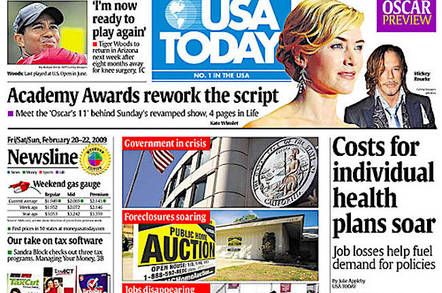 A US judicial panel has greenlighted a lawsuit over the way mobile apps handle people's private information.
The US First Circuit Court of Appeals overturned an earlier ruling throwing out a lawsuit filed by Alexander Yershov against newspaper publisher Gannett alleging misuse of personally identifiable information.
In doing so, the judges argue that folks who download mobile applications should be classified as "subscribers" with additional protections on personal data not given to website visitors.
In his suit, Yershov claims that the Gannett-owned USA Today mobile app used information about his device, location, and browsing habits and then handed those records to Adobe in order to serve ads without his permission.
The Appellate Court found [PDF] that by downloading the USA Today app, Yerhsov would be considered a "subscriber" whose activity and history would be protected beyond that of a visitor who clicked on a website.
In doing so, the plaintiffs argue that Gannett violated the Video Privacy Protection Act (VPPA), a law originally intended to protect the personal information of video rental customers and subscribers from being disclosed. The act was passed in 1988 after Supreme Court nominee Robert Bork had a local video store leak his rental history to a newspaper.
The Appeals Court ruling overturns an earlier District Court ruling that had dismissed the case. With the case revived, Yershov's attorneys will once again be able to argue that Gannett should be held liable for class-action claims of privacy violation.
The panel noted that as the case proceeds and more details emerge, their standing on whether Gannett is liable could change.
"For example, does Gannett itself classify those who access its content through the App differently from those who access its website only? Are the content and format the same through either channel? Does access through the App generate value for Gannett that website access does not?" the panel asks.
"Is Yershov correct about the extent to which Adobe foreseeably can identify him? Answers to these and similar questions may enable a more refined, and possibly different, conclusion on the ultimate question of whether Gannett has violated the VPPA."
The case will now be remanded to the US District Court in Boston. ®
Sponsored: Becoming a Pragmatic Security Leader