Score one for the patent trolls: US appeals court says it's OK to shop for patent-friendly judges
No escape in sight from Delaware and eastern Texas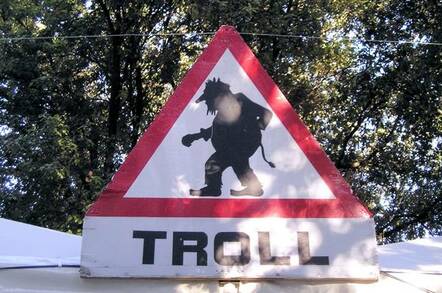 US appeal judges have shot down a bid to end the practice of so-called venue shopping in patent battles.
That's where companies alleging infringement pick judges who typically back those bringing a case, which puts defendants at an immediate disadvantage.
On Friday, the US Court of Appeals for the Federal Circuit rejected [PDF] a plea by TC Heartland LLC to dismiss or transfer its patent fight with Kraft Foods from a Delaware court. Illinois-based Kraft is suing Indiana-based TC Heartland, alleging that the latter's "liquid water enhancer products" rip off three Kraft patents.
TC Heartland had asked the courts to move the case from Delaware because it has no presence in the state, contending that Kraft had chosen Delaware purely because it has a history of siding with plaintiffs in patent claims.
The court denied the appeal, reaffirming a 1990 ruling that allows a company doing business nationally in America to be sued in any US district court. This, in turn, means that plaintiffs can hand-pick the courts they use to bring forward patent infringement suits – and they usually pick the courts that back those alleging infringement.
The case has been closely followed by technology companies due to the precedent TC Heartland would have set had its appeal been successful. Intellectual property law reformers hoped that a ruling in Heartland's favor would restrict the practice of "patent trolling" by preventing IP-holding firms from using plaintiff-friendly courts (such as the Eastern Texas District Court) to file infringement claims in hopes of winning a decision or striking a settlement.
Vera Ranieri, staff attorney with the Electronic Frontier Foundation, said that the decision underscores the need for lawmakers to step in and legislate tighter restrictions on how and where patent infringement suits can be filed.
"Three senators recently proposed changing the law that the Federal Circuit says allows this venue shopping," Ranieri wrote.
"Congress should step in and make clear it never intended over 40 per cent of all patent cases to be heard in a single, far-flung district."
TC Heartland does have the ability to appeal the case possibly all the way to the US Supreme Court, so there is still a chance the ruling could yet be reversed. ®