India trumpets seventh navigation sat launch
'We will determine our own paths powered by our technology', declares PM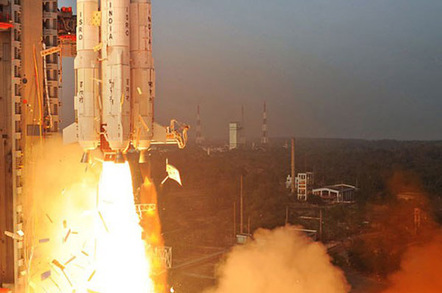 India yesterday celebrated the launch of the seventh and final "Indian Regional Navigation Satellite System" (IRNSS) satellite - IRNSS-G - which rose from the Satish Dhawan Space Centre, in the southeastern state of Andhra Pradesh, atop a Polar Satellite Launch Vehicle (PSLV).
According to the Indian Space Research Organisation (ISRO), prime minister Narendra Modi "heartily thanked and congratulated all the ISRO scientists and team ISRO for completing [the] IRNSS constellation".
Modi's office tweeted: "With this successful launch, we will determine our own paths powered by our technology."
IRNSS is described as "an independent regional navigation satellite system designed to provide position information in the Indian region and 1500 km around the Indian mainland".
All of the constellation's satellites have been lifted by India's own PSLV, which we've described as "an interesting beast, boasting a mix of solid rocket and hypergolic engine tech".*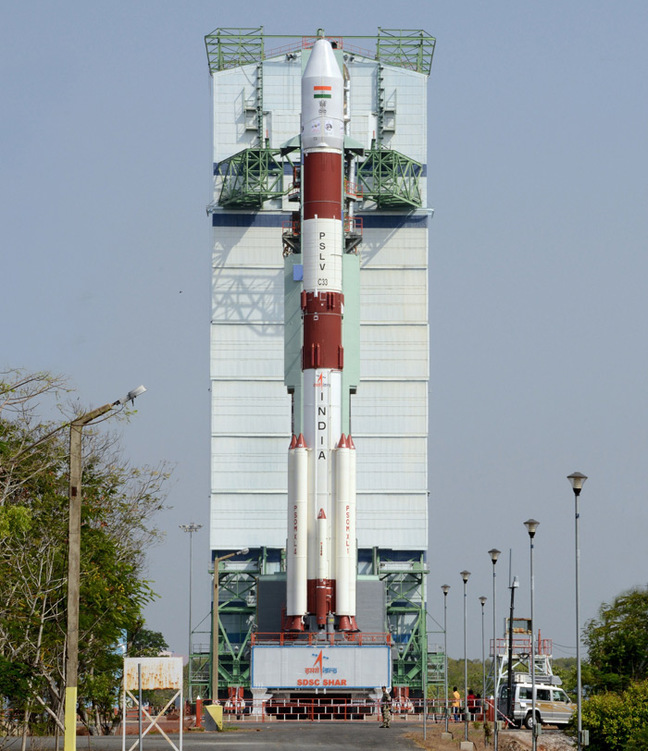 The PSLV on the pad before yesterday's launch. Pic: ISRO
Yesterday's launch marked the PSLV's thirty-fifth flight. The vehicle has proved reliable, with just one complete failure on its maiden flight back in 1993, when PSLV-D1 suffered a guidance software error and ended the mission with an unplanned dip in the Bay of Bengal.
In 1997's PSLV-C1 mission, a glitch in the rocket's fourth stage left its payload in a lower than planned orbit, although the satellite was able to make its own way to the planned altitude. ®
Bootnote
*The PSLV's principal first-stage thruster boasts a mighty 139 tonnes of hydroxyl-terminated polybutadiene (HTPB) bound propellant. Strapped around this core are six solid rocket boosters (SRBs), four of which fire at launch and two which fire around 30 seconds into the flight.
Its second-stage booster is, by contrast, a locally built Vikas engine burning approximately 40 tonnes of unsymmetrical dimethylhydrazine (UDMH) and nitrogen tetroxide (N2O4).
Once the Vikas has done its job, seven tonnes of solid propellant power the third stage. After that, it's back to a hypergolic blend for the fourth stage, as two engines slurping monomethylhydrazine (MMH) and nitrogen oxides finally send the payload on its way.
Sponsored: From CDO to CEO