FCC floats new rules for data lines that bind America's networks
Not everyone pleased with proposed access rules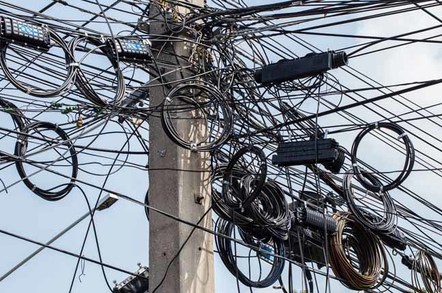 The FCC has put forward a new set of rules governing the data network connections that glue our modern lives together.
The proposed red-tape sets out a framework for regulations on specialized business data lines that, for example, hook up ATM networks and wired lines between mobile phone towers. The FCC estimates that such services are worth as much as $45bn annually.
The proposed tweaks do not directly impact home or business internet service customers. Instead, they aim to encourage competition in markets with multiple providers and prevent abuse in markets with a single business data provider.
Companies who would be subject to the proposed FCC rules had mixed reactions to the decision. Telco services provider Granite Telecommunications said that the FCC rules would be "good news for businesses."
"Through [FCC] chairman Wheeler's leadership on this important issue, the FCC has taken a significant step to promote competition with a technology-neutral competitive framework," Granite CEO Rob Hale said.
Also applauding the decision was internet backbone provider Level3, which said the rules would help open up the market for data services and prevent incumbents from gouging customers on service fees.
"Freeing up the market is a critical step in unleashing competition for these vital network services and spurring a virtuous cycle of innovation and investment for the US economy," Level3 VP and general counsel for federal affairs Joseph Cavender said.
"Thanks to the leadership of Chairman Wheeler and his colleagues, we believe some relief may finally be in store for customers in the business data services market."
Not everyone is looking favorably on the regulations, however. The National Cable and Telecommunications Association (NCTA) argues that rather than encourage competition, the FCC's proposed rules would make it harder for smaller network providers to gain a foothold in the market.
"Chairman Wheeler has attempted to defend this proposal by suggesting that the marketplace for these services is a failure and that an entirely new set of technology-neutral rules is needed. Such a theory cannot be reconciled with the fact that cable operators have entered the market and invested billions in new facilities to bring better services and lower prices to millions of businesses," the NCTA said.
"That is the definition of an increasingly competitive marketplace, not a failing one."
The FCC has invited comments from the public, and will consider them before it decides on pushing forward with the proposed rules. ®