Honestly though, Twitter can't do anything right
CEO Dorsey faces investors after another loss-making quarter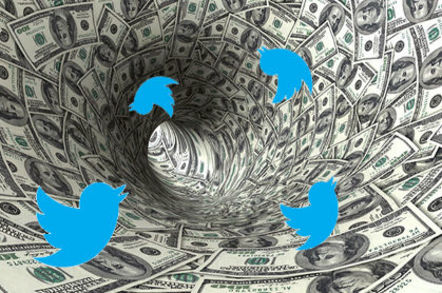 Microblogging platform Twitter has disappointed investors, missing Q1 2016 revenue and user growth forecasts. Its share price has fallen 13.5 per cent in after-hours trading today to $15.35.
The San Francisco company's GAAP net loss of US$79.7m was considerably better than the first quarter 2015 loss of $162.4m (and also better than Q4 2015's $90m), but its revenue of $594.5m fell short of the roughly $608m analysts had hoped for.
That revenue was up 36 per cent from the same period last year, but considerably down from Q4 2015's $710m.
Advertising revenue rose from $388m in Q1 2015 to $531m for this quarter, once again down from the previous quarter ($641 million). International ad revenue growth (39 per cent year-on-year) slightly outpaced that in the US (36 per cent year-on-year).
Analysts were also disappointed by its forecast for Q2. The range of $510m to $610m is far short of what Reuters reports was an average analyst forecast of $677m.
Foreign exchange movements hammered the 34 per cent of revenue Twitter makes outside the US. It says the $204m it booked offshore, an increase of 39 per cent year-on-year, would have grown 46 per cent (roughly another $10m) if it had not been a stronger US dollar.
In its earnings announcement, the company says, "brand marketers did not increase spend as quickly as expected in the first quarter." That's in spite of Twitter's claim, during its earnings call on Periscope, that a dollar spent on Twitter generates $6 in ROI for marketers.
Probably the greatest worry for Twitter was its limp user growth: it only added 3 per cent average MAUs (monthly active users) in the year, to 310 million. Since there are two billion mobile devices connecting to Fabric each month, there's a lot of people who took a look but didn't stay.
Users might say they don't like the "algorithmic timeline," but only two per cent could work out how to opt out and return to a strictly chronological timeline, CEO Jack Dorsey told the earnings call.
Under pressure from Facebook, Twitter says it's working hard on turning dollars out of its Periscope video product, so users can expect an onslaught of promotional video advertising.
The earnings call was also told that with Twitter Fabric "touching over 2 billion devices," helping developers move through "Fabric to monetization" will be a focus for 2016. The company says payments to publishers through its MoPub advertising exchange grew 80 per cent year-on-year (although that's still too small to get its own line item in the financials). ®